DC GTD Meetup Agenda
======================================
I. Introductions + Overview (6:30 PM)
Each member will introduce himself/herself, tell us what you do professionally, your history with GTD, and a recent success/challenge with your GTD implementation. We'll give a few minutes to discuss solutions to the challenges we all share.
II. Discussion Topic: GTD|REFRESH: Implementing the Natural Planning Model and Utilizing the Project Planning Triggers List (7:20 - 7:50 PM)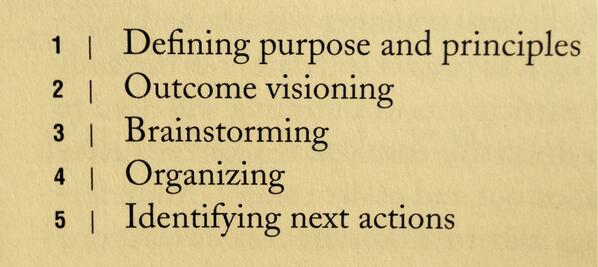 This month's topic is about implementing the tried-and-true Natural Planning Model in your productivity system. On a fundamental basis, satisfactory preconceived outcomes require good project planning; the Natural Planning Model is a great, realistic "vertical" planning tool to achieve these outcomes. The basics of the model are quite simple: define your purposes and principles for this project; envision your outcome (vis-a-vis, Covey's "think with the end in mind" habit); brainstorm ideas; organizing the best ideas to implement; and, identify next actions for the project. However, in practice, there is certainly quite a bit of room to run astray, or just plain run aground while trying to set sail on your projects! One of the helpful tools that David Allen has provided is the Project Planning Triggers list; we will discuss how to use this and streamline your project planning phase with it. Join us for a lively, engaging discussion about implementing the Natural Planning Model and to stay on course with your projects to successful completion. Bring your suggestions, tips, tricks and tools to the group discussion!
III. GTD Resource Sharing (7:50PM)
This is where everyone can offer a book title, recent blog or magazine article, tip/trick/hack, tool, service or item that has helped them in their life either with GTD or otherwise. (We compile resources discussed and post them to our Resources Page in the GTDDC Google Group. Join us there!)
I ENCOURAGE EVERYONE TO BRING SOME KIND OF GTD OR PRODUCTIVITY RESOURCE THEY KNOW ABOUT OR USE TO OFFER TO THE GROUP!
IV. Announcements / Closing Remarks (7:55 PM)
Upcoming meetups, events, and programs announcements. All announcements must be sent to the Meetup Organizer within the RSVP form to announce to the group, at his/her sole discretion. Thank you!
=====================================================