Greetings Friends!
★Healthy Alternatives To Pesticides (HAP) will have a table at the  Dance and Networking Extravaganza on Friday, September 5th starting at 7:00PM - 1:00AM at David's Restaurant at 5151 Stars & Stripes Dr. in Santa Clara.★
Let's network, socialize and wake up the crowd about the toxic spraying and other environmental issues going on in the Bay Area from 7:00PM - 9:00PM.  Then after 9:00PM it becomes a gigantic dance party!

We are expecting 400 people!
Since you are an environmentalist, use promotional code friend to receive $5 off every ticket!

$20 Prepay Special (By September 5th 4:00PM (HERE)
Our Super Special offer:Buy 3 prepaid tickets and receive the 4th ticket for free!(HERE)
OR $30 CASH at the door
Please invite your friends and post on Facebook, Twitter, Google+ !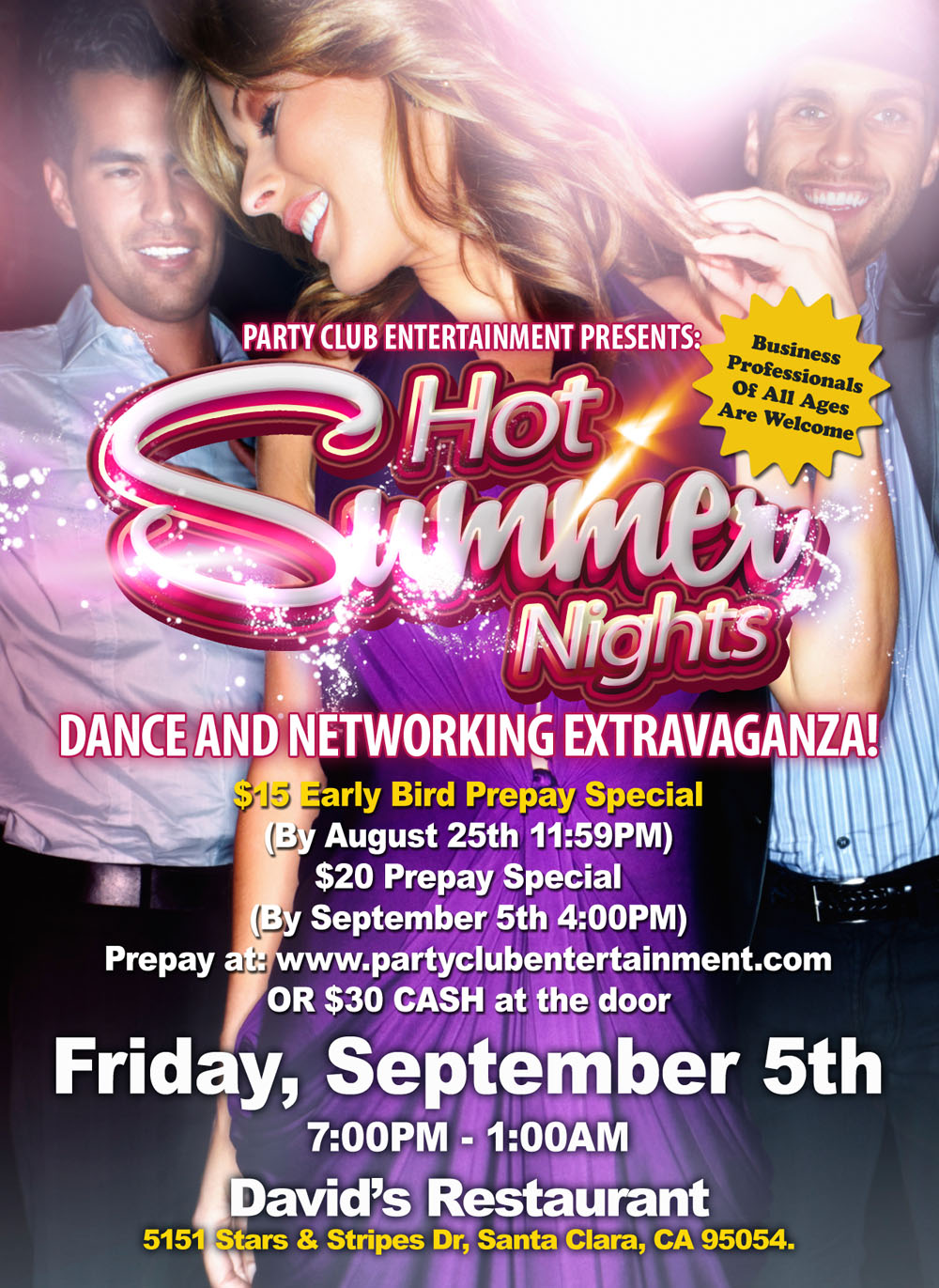 View a video from last year's  "Hot Summer Nights Dance and Networking Extravaganza!" HERE

7:00M - 8:30PM
-Mingle, network and make great new business contacts and friends!
-Enjoy light complementary appetizers while they last!
-You will have an opportunity to make a 30 second lightning announcement about a product launch, need for funding, services offered, job opening or meet a co-founder, etc.
- First 25 people receive a gift!


8:30PM - 1:00AM
-Dance to your favorite music with DJ RAWK playing all of your favorite hits from yesterday and today, Top 40's, Classics, R & B, Disco, and Rock and Roll and more!
- Dressy attire suggested OR whatever you want to wear!
Free Parking


To receive information about upcoming events, please sign up at: http://www.partyclubentertainment.com/

See you at the amazing Hot Summer Nights Dance and Networking Extravaganza!
To view all the photos from previous parties click HERE
This meetup attendance calculation is from all the meetups that  has been posted plus many other social networking sites.
Wondering what Brandi has been doing?  Working with Healthy Alternatives to Pesticides to protect the citizens of Santa Clara County and the environment to STOP the spraying of a toxic pesticide. Click HERE