Winter Catskill Backpacking
Peekamoose and Table
Good for all levels (with the right gear)
Slow pace
Meeting times and locations:
Saturday: Peekamoose Parking Area: 3:00PM
We will hike in about 3 miles to our camping area (good 4-season camping gear needed).
Sunday we will work our way up to the 2 peaks, then hike out to the cars.
Total Miles:
Saturday: 3 miles - 1,000 foot gain
Sunday: 5.7 miles - 1,400 foot gain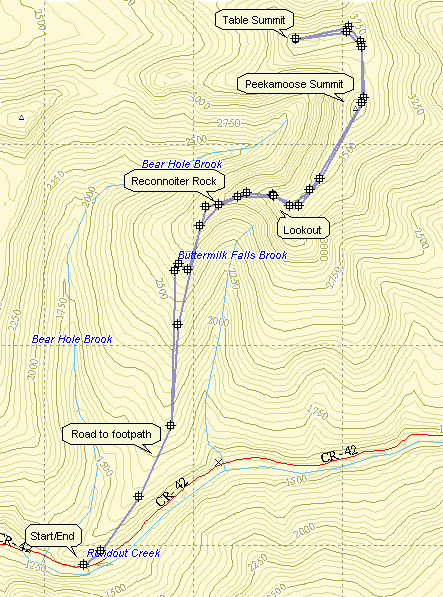 http://www.catskillhiker.com/table.html
Details:
Starting at the Parking Lot on Peekamoose road, we will follow the Blue trail past Reconnoiter Rock (we will camp in this area) and some beautiful view points 3.9 miles to Peekamoose Mountain (3843'). We will continue for approx 0.9mi further along the blue trail to Table Mountain (3847') & enjoy more beautiful views! At this point we will turn around and hike the 4.8 miles back to the car. Beautiful views from the top of Ashokan Reservoir and several views of the southwest Catskills.
The parking area is located on Peekamoose road (route 42)
County Route 42 / Peekamoose Road Parking Area MAP LINK
NOTE: You are responsible for bringing appropriate gear, supplies, clothing, first aid and lights. You should review topographic maps and trail features carefully; understanding topography of any challenge hike is key to your knowing where you are, where you're going and how to get back.
You agree when you sign up for this group or any of the events that you have read and understand the below. If you join us for a hike (or any other event), please understand that you are responsible for your own preparedness and well-being and will hold no one else liable in case of injury or mishap. You agree not to hold the Organizer, Assistant Organizers, or any other members responsible for any injuries, mishaps, or any other situation that may happen at a planned event. You are responsible to research the event, know the area, and bring the proper gear. Your attendance on a hike signifies that you have read and accept the terms of this liability waiver. Full waiver can be found on the ABOUT page.