Catskill Fire Tower Series
Overlook Mountain 
This will be a fast-paced hike with the goal of seeing the sunrise at the top.  Please keep up or feel comfortable hiking alone, as waiting for slower hikers will prevent the group from viewing the sunrise at the top.  Sunrise occurs at 6:30 a.m. and ideally the group will summit by 6:15 a.m. or earlier.
Total Mileage: 5 miles 
Total Elevation Gain: 1400 feet 
Estimated Hike Time: 3 hours 
Special Gear / Requirements: Warm weather wicking clothing, food/water as you feel is appropriate, first aid, insulating shirt & rain jacket (just in case), trail conference map #141, headlamp & extra batteries, camera!  
Microspikes and/or snowshoes are required.

Who's Organizing? 
Joy  
[masked] (FYI my phone only accepts call, texting function is broken)
[masked]
Meetup Times and Locations: 
4:45 am - Meet at Overlook Mountain Trailhead Parking 

5:00 hike start time 
Please be punctual, we will start promptly at 5 a.m.
Getting there: NY Thruway north to exit 19 – take route 28 west 6 miles then turn right on route 375. After 3 miles, route 375 ends and turn left on Mill Hill Road (route 212). After half a mile, turn right on Rock City Road (county 33) , then continue straight-ish on Meads Mountain Road up the hill to 357 Meads Mountain Road – parking area on right across from a monastery – 2.6 miles from town. 

Route description: 5 miles distance, 1400 feet of elevation gain. We proceed along an abandoned dirt road for just under 2 miles to the 80 year old ruins of a great 19th century Catskill resort. We can take a moment to explore this historical marker if anyone wants to. From the resort, we continue uphill for just over half a mile to the fire tower at the summit. Back the way we came. 

Pace and Time: This is a straightforward hike that shouldn't take much more than 3 hours! 

Group Size: The DEC limits group sizes in this area to 20.  If we have more than 20 we will split into two groups that are at least 15 minutes and 1 mile apart.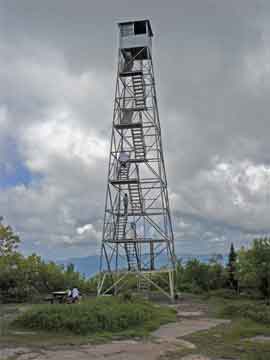 The Ruins:
NOTE: You are responsible for bringing appropriate gear, supplies, clothing, first aid, and lights. You should review topographic maps and trail features carefully; understanding topography of any hike is key to your knowing where you are, where you're going, and how to get back. 

See suggestions for GEAR on the "About" page for additional gear ideas.
-------------------------------------------------------------------------------- 

You agree when you sign up for this group or any of the events that you have read and understand the below. 

If you join us for a hike (or any other event), please understand that you are responsible for your own preparedness and well-being and will hold no one else liable in case of injury or mishap. You agree not to hold the Organizer, Assistant Organizers, or any other members responsible for any injuries, mishaps, or any other situation that may happen at a planned event. You are responsible to research the event, know the area, and bring the proper gear. 

Your attendance on a hike signifies that you have read and accept the terms of this liability waiver. 
Full waiver can be found on the ABOUT page.