I am happy to welcome back this speaker and announce the next IxDA (Interaction Design Association) event:
Designing Social Interfaces with Christian Crumlish
Wednesday, July 10th at 7:00pm
Fandango
12200 W Olympic Blvd, Suite 400
Los Angeles, CA 90064

As we use social tools on the web, design patterns are emerging. Social design must be organic, not static, emotional, not data-driven. A social experience builds on relationships, not transactions.
Along with his friend and once colleague, Erin Malone, Christian created a wiki to gather social design patterns and published a snapshot of the wiki in book form.
Among the many principles of social design, Christian presents five:
Pave the Cowpaths: Watch what people do, then support and adapt to that behavior.
Talk Like a Person: Use a conversational voice. Be self-deprecating when an error occurs. Ask questions.
Be Open: Embrace open standards. Support two-way exchange of data with other applications.
Learn from Games: Give your application fun elements, like collecting and customization.
Respect the Ethical Dimension: Understand the expectations people have in social situations and abide by them.
Christian then describes five practices:
Give people a way to be identified and to characterize themselves.
Create social objects that give people context for interaction.
Give people something to do, and understand the continuum of participation, from lurkers to creators to leaders.
Enable a bridge to real life.
Let the community elevate people and the content they value.
Finally, he discusses five anti-patterns, commonly-used design choices that appear to solve a problem but that can backfire and pollute of the commons. Examples:
The Cargo Cult: Copying successful designs without understanding why they are successful.
Breaking Email: Sending an email alert, but rejecting or silently discarding the reply.
The Password Anti-Pattern: Asking people for their password to another service encourages poor on-line hygiene.
The Ex-Boyfriend Bug: Connecting people who share a social circle but who have reasons to avoid each other.
The Potemkin Village: Building groups with no members. Instead, let people gather naturally.
Christian stresses that social design is an ecosystem in which designers must balance many trade-offs. Not every design pattern applies to every application, but good designers can use patterns to strike a balance that works.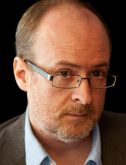 Christian Crumlish leads product and user experience teams to deliver amazing cross-channel experiences. He is director of product at CloudOn, co-chairs the monthly BayCHI program and has been director of messaging products for AOL, curator of the Yahoo design pattern library, and director of the Information Architecture Institute.
He is the author of the bestselling The Internet for Busy People, and The Power of Many, and co-author most recently of Designing Social Interfaces with Erin Malone. He has spoken at BarCamp, BayCHI, South by Southwest, the IA Summit, Ignite, Web 2.0 Expo, PLoP, IDEA, Interaction, Web Directions, the Web App Masters Tour, the Italian IA Summit, and UX Lisbon, and Web Visions in Sydney, Tokyo, and London (@media).
AND! The event will be hosted and sponsored (with food and beverages) by:

IxDA Los Angeles

We are a global network dedicated to the professional practice of Interaction Design.
With the help of more than 30,000 members since 2003, the IxDA network provides
an online forum for the discussion of interaction design issues and other
opportunities and platforms for people who are passionate
about interaction design to gather and advance the discipline.