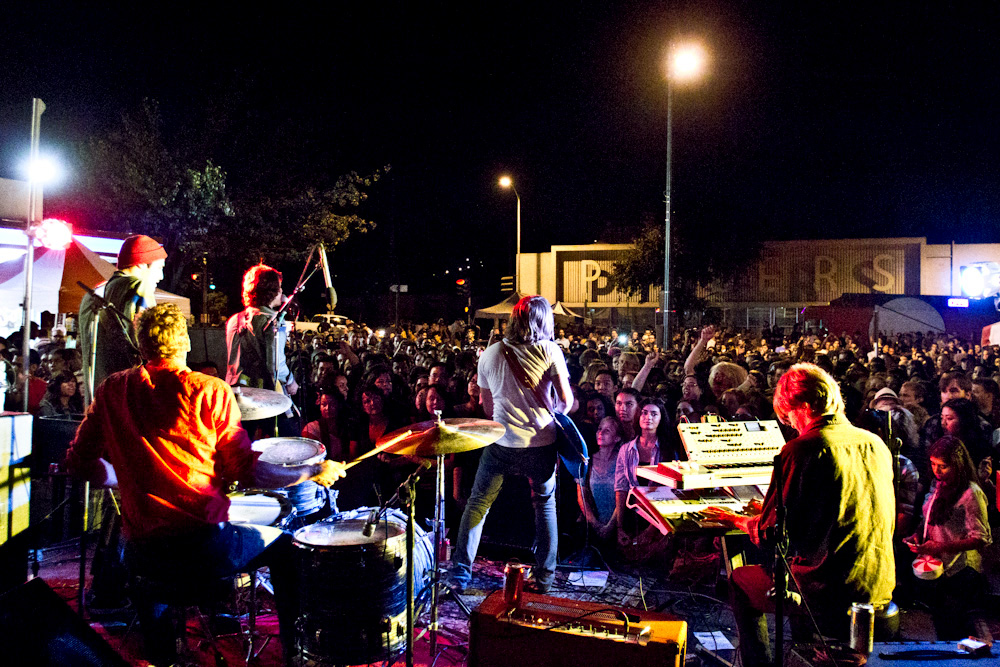 The 16th Annual Eagle Rock Music Festival, called the "last great neighborhood music festival" by LA Weekly,  brings innovative and recognized bands, producers, and DJs to Colorado Boulevard for an amazing night of music you won't want to miss and won't soon forget. Performing this year will be Aloe Blacc, Maya Jupiter, Quetzal, Myron & E and many others (Full Lineup). This event is cross-posted at 15 groups with LA Free Concerts as the lead group so you can expect a large turnout. It's Ok to come by yourself, you won't be by yourself for long. Our Get-to-Know-You Game will make sure of that. Stick around because after the Festival we'll be heading to Old Town Pasadena for more partying.
At the heart of the festival will be The Main Stage, which last year featured  internationally renowned artists such as Bosnian Rainbows, Kingdom b2b and Nguzunguzu. None of the past festivals have been complete without wild dancing in the streets, and the 16th ERMF will surely not be an exception. Colombo's Italian Restaurant will be hosting a steady line-up of blues, jazz, rock, and oldies, featuring both outdoor and indoor stages in equally intimate settings.
AGENDA
4:00      Doors open. Meetup #1 at 5 Line Tavern & Lounge for Early Birds
6:00     Meetup #2 at Colombo's
10:00   Festival ends but we're heading to Old Town Pasadena for more partying
HOW TO FIND THE GROUP
This will be a great event, and for your maximum enjoyment we're going to break up into small groups based on what performer you would like to see. So here is the plan:
• Meetup #1: the Festival kicks off at 4 pm and we'll have an Early Bird Meetup at 5 Line Tavern & Lounge located at 2136 Colorado Blvd, Los Angeles, just outside the festival entrance. Look for a table with a Meetup sign. There you can get your glow band bracelet and meet other members.
• Meetup #2: those of us who want to come later can meet up around 6 pm at Columbo's Italian Steakhouse which located inside the festival. We'll be on the outdoor stage. Look for members wearing glow bands.

GET-TO-KNOW-YOU GAME
So everyone will become friends as quickly as possible, we're going to play a Get-to-Know-You Game. But you need a glow band to play. The goal is to introduce yourself to 2 other members.
 INFO
• Free parking at Eagle Rock Plaza, which also provides free shuttle service to the Festival. Eagle Rock Plaza is located at 2700 Colorado Blvd, Los Angeles.
• 18 and over
• No pets
• The event is free but the Festival organizer is asking for a $10 optional donation. For more info click here.