Date:

March. 19th, 6: 00pm(PST)




Location

: Mission Bay Conference Center at UCSF
1675 Owens Street
San Francisco, CA 94143 - 3008


Language:

English



Agenda


6:00 - 6:30pm Registration
6:30 - 6:45pm Opening & Introduction
6:50 - 7:50pm Keynote Speech
7:50 - 8:30pm Q & A



Speaker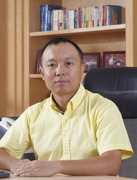 George (Zhengzhi) Hou - The president of ZTE MT and ZTE Joygor



In 1990s, Mr. Hou worked in ZTE group covering the areas of sales, marketing, products innovative development and management. In 2002 when ZTE Mobile Technology Ltd. was founded, Mr. Hou was assigned as the General Manager of the company. His accumulated experiences from ZTE Group and profound technical educational background lead to his successful operation and management of ZTEMT, the uprising fast-growing branch of ZTE Group, which contributes a fairly big share of ZTE terminal business revenue. With the annual sales revenue of 6 billion, the company widely sells its products in more than 90 countries throughout Asia, Africa, Latin America, America, etc. Now ZTEMT actively extend our software & service products, keep developing mobile value-added services & M2Mapplications, and become one of the world's leading mobile telecom enterprises. Mr. Hou graduated from Beijing University of Posts and Telecommunications, which is the top grade university in China.



Rui Lin

- General Manager of ZTE MT USA



Host




David Cao

- President of Great Wall Club Inc (US)



On-site Prize


One of the attendees will receive a regular Ticket for Global Mobile Internet Conference (GMIC) 2012, the Asia's largest and most elite mobile Internet conference, hosted by Great Wall Club.

(Value $1,500)





Parnter











Registration


Please register at http://gwcus-zte.eventbrite.com
Registration is required for free admission. On-site registration price is $10.
Seats are limited. Food will be provided.
For event related inquiries, please contact [address removed].

About ZTE MT and ZTE Joygor



ZTE Mobile Telecom (ZTE MT 中兴移动通信)



Shenzhen ZTE Mobile Telecom Ltd (ZTEMT) is a Hi-Tech enterprise and its majority stockholder is ZTE Corporation, Chinese largest listed telecommunication system provider. The headquarters of the company is located in Hi-Tech Industrial Park of Shenzhen. ZTEMT has a large R&D center and manufacturing facility. The sales network and technical support network cover all over China, and extend to more than 60 countries and regions all over the world.

Please visit here for more information about ZTE MT.

ZTE Joygor (中兴九歌)

Invested and established by shenzhen ZTE, Joygor is a professional network & wireless value-added service provider and the comprehensive software developer,which is dedicated to the development,application and operation of network & wireless value-added sevices, especially digital music contents and mobile phone client-end software,as well as the development,integration and service of relevant operating platforms.

Please visit here for more information about ZTE Joygor.



About the Host



Great Wall Club connects the mobile internet ecosystem of China to that of the world's by enabling our members and clients to develop trusted relationships, learn market leading strategies, promote their initiatives and ultimately, grow their mobile internet business in China and the world. GWC Members include some of the world's most influential executives, entrepreneurs, developers and investors in the mobile Internet industry such as executives from Tencent, Alibaba, China Unicom, Microsoft, DeNA and Gree.
Great Wall Club is the organizer of the annual Global Mobile Internet Conference (GMIC), the largest tech conference in Asia drawing 5000 tech leaders from more than 30 countries.
Great Wall Club is headquartered in Beijing and has representative offices in Japan, USA, Singapore, Taiwan and Finland. Great Wall Club Inc (US), located in the heart of Silicon Valley, is the new sister company of Great Wall Club in Beijing.
Please find more Great Wall Club US upcoming events Here.