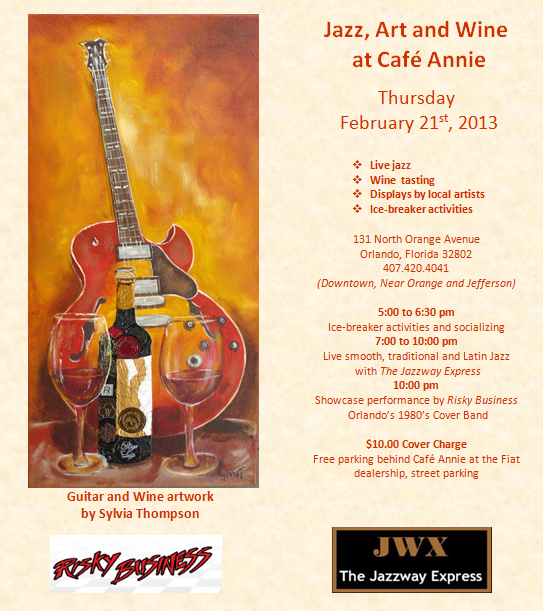 Poster guitar and wine artwork by Sylvia Thompson
http://www.sylviat.com and facebook
https://www.facebook.com/SylviaTDesigns
Make some new friends at Cafe Annie in the Arts District in Downtown Orlando.  There will also be a wine tasting and local artists will showcase their work, turning the cafe into an Art Gallery.
If you want to arrive between 5:00 pm and 6:30 pm, there will be ice-breaker activities that allow you to get to know each other.  If not, come for the music performance from 7:00 pm to 11:00 pm.
The Jazzway Express will perform smooth, Latin and classic jazz from 7:00 to 10 pm.  Risky Business, a 1980's cover band, will be on at 10:00 pm for a showcase of their tunes like Jump, Separate Ways, Just Can't Get Enough, Stray Cat Strut and other 1980's favorites.
$10 cover charge.  Free parking at the Fiat Dealership near Orange and Washington.  Street parking is also available.