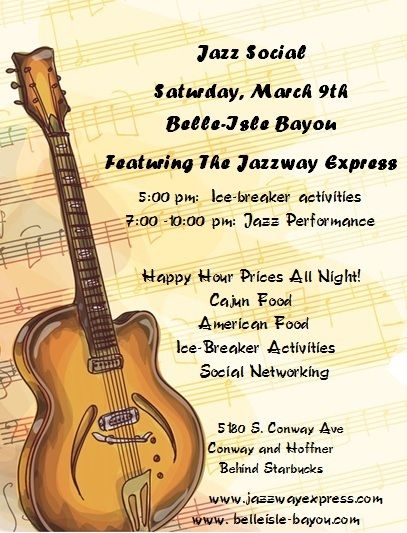 We are going to hold another jazz social at the Bayou.
Arrive between 5:00 pm and 6:30 pm and and ask for Brent Ward and the meetup table. We'll continue with ice-breaker activities for people who would like to get to know members of our group before the performance.
If you'd rather not do the ice breaker activities, then come and enjoy the music and general socializing at 7 pm.
We'll have live jazz dinner music from 7-8 pm after the ice-breakers. Upbeat jazz performance happens from 8 to 10 pm.
The Jazzway Express will play smooth, traditional and latin jazz.
We had a large group last time, so we look forward to building on that success...come and join us and see some familiar faces, as well as some new ones. Andre, the manager of the Bayou, has also created a drink he named after the band -- called a Jazzway Island Express. It's like a Long Island but it's been jazzed up with fruit and other flavors. Try one and tell us what you think! Andre also said he's continuing with happy hour prices all evening as an added plus.
No Cover Charge.
Feel free to ask questions below in the comment section if you like. I check in pretty regularly.
Jazz band information and sound samples
http://www.jazzwayexpress.com
Belle Isle Bayou Restaurant site
http://belleisle-bayou.com/