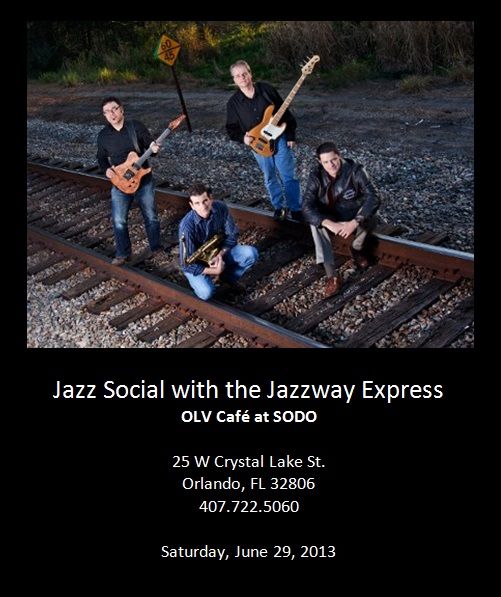 OLV is a medium to upscale cafe in the South of Downtown Center (SODO) near Super Target (near Michigan and Orange area).  Located at the roundabout on the main street of the SODO center, they have a great atmosphere, great food and drinks.
Arrive at 6:00 pm to meet other jazz lovers at our meetup table, or come for the performance at 7:00 pm to 10:00 pm!
Jazzway Express will perform Latin, Smooth and Traditional Jazz
Join our mailing list for unadvertised and advertised events around town that involve jazz and live music.
We're also giving away a $20 gift certificate to OLV cafe so you can win a cheap night out sometime!
June 27th Update:  We are also giving away a complementary two-day trip to one of 50 cities in America.  I ran into a travel company representative and he provided this perq as well.   We will do a draw, and the winner will receive the details via email.
Mailing list for Brent Ward's music events around town
http://www.musicaroundtown.yolasite.com
OLV Cafe website
Jazzway Express Website
Here is what the cafe looks like...as well as their happy hour situation (although this is not a happy hour meetup, I couldn't remove the happy hour advert from their graphic!)