*********************************
**GAMES - FOOD- FUN**
*****************************
Calling all sports nuts!  Come out and join us for an all day event.  Get ready to dodge, duck, dip, dive and dodge! Who has the endurance to last till the end?
***If anyone would like to play any other activity please let us know and if you have the equipment.***
We will also be having a potluck.
Come join us for some food & fun!
Click HERE to indicate what potluck item(s) you will be bringing and what activities you will be participating in. If you choose not to bring a dish, you can contribute with a small donation to the Organizers towards party essentials.
Donations towards Food and Game related items can be made via PayPal.
PayPal ID: [masked]
Remember to send $$ as Gift to avoid fees.
_________________________________________________________
_________________________________________________________
TENTATIVE SCHEDULE
10:00am    Touch football/kickball
12:00pm    Lunch Break (Potluck)
Please arrive early if you'd like to participate in the games. We'll form teams, so start thinking of team names. =)

1:30pm Ice Breaker Games
2:00pm Ping-Pong & Spoon Relay
2:20pm Hula Hoop Circling
2:40pm Ballon Chase
3:00pm Three Legged Race
3:20pm Balloon Toss
3:40pm Capture the Flag
4:30pm Dodgeball
1:30-5:30p m Volleyball
**Please bring your water guns, we'll provide water balloons**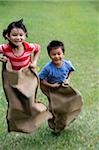 Meeting Location:
Parking:
-Parking inside the park is $5
-FREE street parking on Edinger Ave and Euclid St
CARPOOL SPREADSHEET --> CLICK HERE