update! 5/2/12 >>>> optional after a good hike<<<<<
* lunch dim sum

@ 333 E Huntington Dr
Arcadia, CA 91006
http://www.capital-seafood.com
>>>>>>after dim sum<<<<<<<
*movie "Marvel's The Avengers"-the Super Hero team
@ AMC Santa Anita 16
400 Baldwin Ave, Arcadia, CA
Rated (PG-13) • 2 hrs. 22 min.
9:20 AM, 10:50 AM, 12:50, 2:20, 4:15, 5:50, 7:45, 9:15, 11:05
or 3D:
10:15 AM, 11:20 AM, 1:40, 2:55, 5:05, 6:30, 8:30, 9:55
---------------------------*---------------------------
<p>Hello Fellow Hikers,
This is a neat, quick flat hike. Follows a sweet little stream and is shaded pretty much the whole time. . Very green and shady, ends up at about a 40' cascading waterfallwith as a reward. This is such a nice little short hike, easy enough for beginners. It has a few medium inclines, but most of it is flat to slight incline.
Monrovia Canyon Falls is a pleasant two-tiered 30ft waterfall in the foothills of the San Gabriel Mountains near the suburb of Monrovia. Presenting another little getaway for Angelinos like us, we were pleasantly surprised that it was flowing as well as it did late in the summer when we first visited the falls. In fact, the creek responsible for this waterfall manages to avoid the evaporative Southern California heat by flowing underneath the surface to emerge as a spring unseen further upstream. Therefore, this waterfall actually flows year round! This is something that is rare for Southern California waterfalls given its relative lack of rainfall and hot, sunny days. This fact alone makes this short waterfall worth visiting. The trail to the falls is a pleasantly shady, gently uphill hike for 3/4 miles (or 1.5 miles round trip). Along the way, you'll pass a handful of manmade dams and some narrow, minor cliff-hugging spots. But for the most part, this is one of the easiest hikes to do and plenty of seniors as well as locals walking their dogs come here.
Directions: Access is by taking the I-210 to the Myrtle Avenue exit. From there, you go north through downtown Monrovia and then into a residential area where the road eventually curves into Scenic Drive. At that point, there are Monrovia Canyon Park signs at each turn guiding you onto the correct road eventually heading into Monrovia Canyon Park. There's very limited parking inside the park before you get to the lil' shed not the entrance gate. There's more parking when you drive up, but again it's very limited and it'll cost you $5 and this is independent of the Forest Service so Adventure Passes aren't honored. You get a nice view of the San Gabriel Valley at this lot. The trailhead is at the car park at the very end of the road. To avoid the $5.00 parking fee or to hike after hours, drive to the intersection of Canyon Drive and Ridgeside Drive (about 100 yards short of the Canyon Park three-foot tall monument sign). A big sign reading "Oak Woods" sits on the northwest corner. It's 0.6 mile from here to the park entrance. Park below this intersection on Canyon Drive. Be alert for the no-parking signs. On a typical weekend morning, curbside parking along the street can be full for blocks.
You need to get there really early for parking or you'll be bombarded by the groups of Arcadians who use the trail. You can also picnic and bbq at the park if you wish, however I was thinking of going Dim Sum after but I will let you all know as we get closer to the date. =)
Don't forget to check out the view of the Los Angeles basin from the lookout at the car park while you're here! It can get pretty crowded at the falls and you are welcome to check out this link for more information http://www.simpsoncit...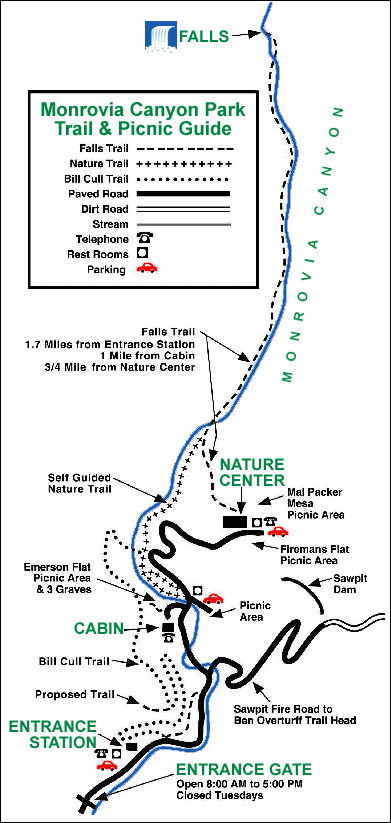 See you all there =)</p>