hi guys, I don't know London very well so I did't find yet a vegan shop or market wher I can buy vegan chees organic food, tofu, seitan and other. if you know something help me please. sorry ih my english in not good, thanks

I'd start by checking out some of the online guides, like
Happy Cow
and
Veggie Places
(
London guide
).
It's also worth buying Alex's handy
London guidebook
(with free printable
updates
), which is the veg*n Londoners' bible!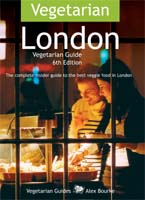 For lots of London and surrounds events, don't forget to check and bookmark Robb's excellent
VegEvents calendar
:-)
P.S. Do join the
London group
on Volentia too, which has
lots
of info in its 'Directory'...