Bordeaux Right & Left Bank
Annual Grand Tasting
On Monday April 7th, for one day only, 38 winemakers of the most prestigious châteaux of Le Grand Cercle des Vins de Bordeaux,from the Right Bank and the Left Bank of Bordeaux, will treat Angelenos to an exclusive unveiling of their most prized possessions-- the most widely celebrated 2011 and 2010 vintages.

This is your chance to rub elbows with some of the industry's most respected winemakers and explore some of the finest wines that France has to offer.


About The Grand Cercle des Vins de Bordeaux..

The Grand Cercle des Vins de Bordeaux came into existence thanks to the aim of Alain Raynaud, its president and founder, to bring together in one entity the wines of the Right and Left Banks.  The Cercle Rive Droite, established in July 2002, has represented for the past 10 years a selection of 137 wines whose keyword is excellence.  As for the Cercle Rive Gauche, it was founded in April 2013.  A parallel association to the Cercle Rive Droite, it groups together 51 wine estates carefully selected for the quality of their wine.  The concept is to take advantage of the drive and efficiency of the Cercle Rive Droite, to promote the fine wines of the Médoc, Graves, Sauternes and Barsac.  With almost 200 wines, the Grand Cercle des Vins de Bordeaux presents, during its trips abroad, a showcase of Bordeaux wines selected for their high quality.  Its vocation is to prove that in Bordeaux there are superb, top-of-the-range and reasonably priced wines.
A silent auction will allow guests to bid on bottles and magnums of their favorite Bordeaux wines.  100% of the proceeds from the robust silent auction will benefit TJ MARTELL FOUNDATION and Children's Cancer Research.
Wine-friendly hors d'oeuvres & cheese will be served during the general tasting.
A robust dinner buffet is included in VIP tickets.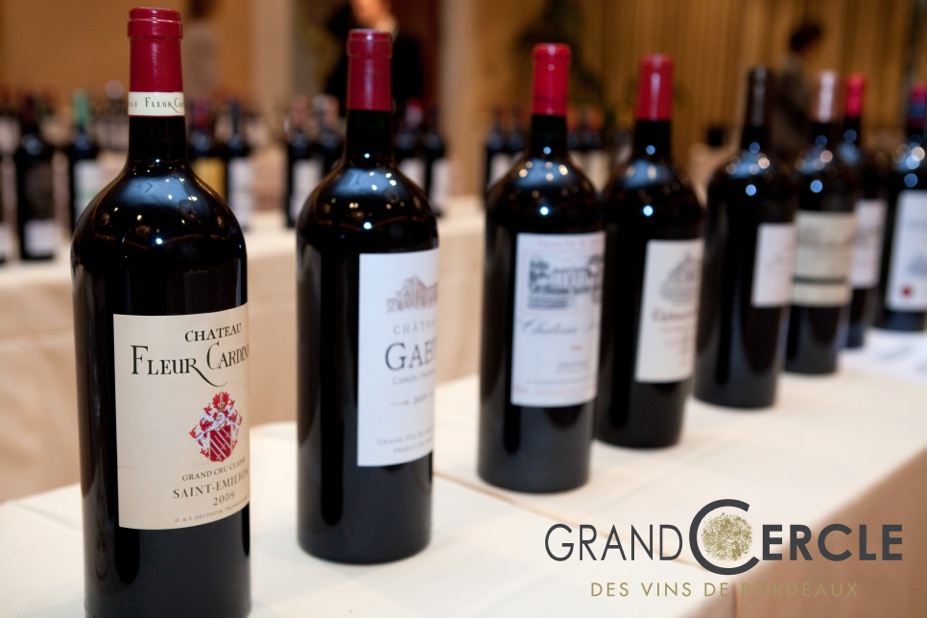 PARTICIPATING WINERIES

RIGHT BANK

BORDEAUX SUPERIEUR
Château Brande-Bergère Cuvée o'Byrne
FRONSAC 
Château Dalem 
Château Moulin Haut Laroque 
Château Les Trois Croix 
Château La Vieille Cure
POMEROL 
Château Vray Croix de Gay
LALANDE DE POMEROL 
Château Siaurac
SAINT-EMILION GRAND CRU 
Château Croix Cardinale 
Château Godeau 
Château Magrez Fombrauge
Château Mondorion 
Château du Parc 
Château Pindefleurs 
Château Trianon
SAINT-EMILION GRAND CRU CLASSE 
Château Fleur Cardinale 
Château Fombrauge 
Château de Pressac 
Château Le Prieuré 
Château Yon-Figeac
MONTAGNE SAINT-EMILION 
Château Faizeau


LEFT BANK
MEDOC 
Château La Cardonne
Château Greysac
Château Grivière
Château Haut Condissas  
Château Patache d'Aux 
Château Ramafort
Château Rollan de By
Château Tour Séran 
HAUT-MEDOC 
Château Liversan
Château Malescasse
The Winemaker's collection 
LISTRAC 
Château Cap Léon Veyrin
MARGAUX 
Château d'Arsac 
GRAVES 
Grand Enclos du Château de Cérons
PESSAC LEOGNAN 
Château Haut Bacalan 
Château Haut Lagrange
SAUTERNES
Château de Myrat
Château Raymond Lafon
Over the centuries, Bordeaux has provided the whole world with a range of appealing, attractive wines with strong personalities that have often been envied.  History shows that the first wines to carry this reputation abroad came from the left bank (Medoc and Graves), especially because they were close to the port of Bordeaux and because of the English occupation that lasted several hundreds of years.  However the right bank of the Gironde river is recognized for its innovative qualities and its continuous quest for perfection.  The Grand Cercle, one of the leading organisations in the area, even checks the quality of its wines every year and displays this with its own logo that it applies under its own authority to the bottles.
1. GET YOUR TICKET(S) HERE:
https://www.eventbrite.com/e/bordeaux-annual-grand-cercle-tasting-right-left-bank-la-wine-tasting-tickets-11142454381

2. RSVP YES BY CLICKING ON YOUR MEETUP GROUP BELOW
and see who else is coming!
IMPORTANT - PLEASE READ
a RSVP on Meetup does NOT guarantee you entry. You need to PRE-PAY for your ticket to guarantee you entry and get the special advance prices! ADVANCE PURCHASE ONLY.  NO TICKETS AT THE DOOR. Absolutely NO exceptions.
Ticket Policy: click here
Question? email at [masked]

Dress code:  Business/Upscale Casual, Cocktail Chic
No T-shirts, no sneakers.

Must be 21 and over to attend.
Every guest's ID will be checked at check-in.

Please enjoy responsibly. 

This event presented to you by Los Angeles Wine Tasting
is produced by LearnAboutWine



Subscribe to our Events Newsletter
visit www.LAWineTasting.com
Need help promoting your wines, gourmet delicacies, services or venue?
Contact us at [masked] to discuss some event opportunities!