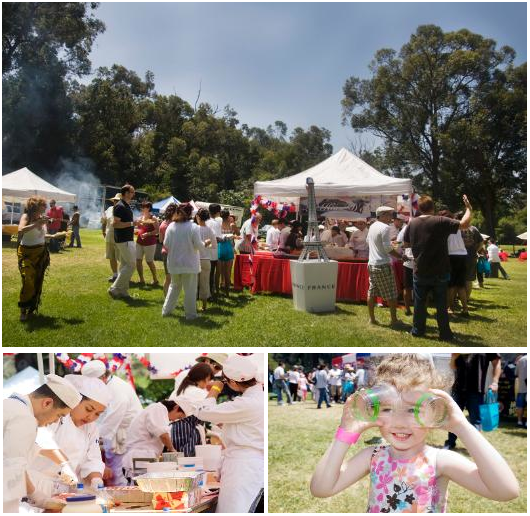 32nd ANNUAL
PICNIC DES CHEFS
Vasa Park (Agoura Hills)
Sunday, May 20 | 11:30am-4:30pm
The Club Culinaire of French Cuisine will hold its annual Picnic des Chefs on Sunday, May 20 at Vasa Park in Agoura Hills, where 4 acres of lush mountain side await us. LA's top chefs will create authentic dishes from various regions of France paired with wines from over 50 American & French wineries.

Participating chefs (to date): Marius Blin (Hotel Sofitel); Michel Blanchet (Michel Cordon Bleu); Joe Miller (Joe's Restaurant); Josie LeBalch (Josie Restaurant); Neal Fraser (BLVD); Yvan Valentin (Sweet Temptation); and Christian Kaufmann (Emil's Swiss Pastry).

Chefs will cook up over 700 lb of meat, poultry and fish, 500 lb of vegetables, 200 lb of cheese and 500 baguettes, 50 artisan breads and much more. Over 50 wineries will be pouring their favorite selections.

SEE WHAT IS ON THE MENU

The event is extremely kid-friendly (including a moon bounce paradise, heated swimming pool with a giant waterslide, rock climbing wall, drawing competition, and games). Adults can play pétanque (win your weight in wine), soccer, volleyball and badminton.

Raffle prizes include two roundtrip tickets to Tahiti or Paris on Air Tahiti Nui, a weekend at The Ritz Carlton Laguna Nigel, Porsche knives, gourmet dinners, and shopping certificates. Musical entertainment will be provided by a French DJ.

Proceeds from the event will benefit the Concern Foundation and the HOPE Program at Childrens Hospital Los Angeles.

Where
Vasa Park
2854 Triunfo Canyon Road
Agoura Hills, CA 91301

Plenty of Free Parking

Ticket Price including all food, wine (for adult tickets) and entertainment:
- adults (over 21 yrs): $60
---> SPECIAL MEETUP PRICE: $55 (enter promotional code MEETUP) - PRESALE ONLY!
- kids (10-21 yrs): $20
- kids (under 10 yrs): free

BUY YOUR TICKET(S) HERE:  http://picnic-des-chefs.eventbrite.com
MEETUP EVENT RSVP PAGE:  http://www.meetup.com/los-angeles-wine/events/61692502/
Rain or Shine - No dogs allowed

Must be 21 and over for ticket adults. Please enjoy responsibly. This event is organized by the Club Culinaire of Southern California. Photo credits: courtesy of the Club Culinaire.