Hey LADA,
Peepshow Menagerie who brought you the raunchy and magical Cherry Potter (Harry Potter Burlesque) is doing a Doctor Who inspired show! For more info visit: https://www.facebook.com/events/486286624786189/
Back due to popular demand and just in time to celebrate 50 years of Whovian adventures through Time & Space in an all new SPACE-TEASE!!!
Join us for an intergalactic burlesque show like no other you've ever seen in the follow-up to last year's HIT world's first parody of Doctor Who that current Doctor Who actor Matt Smith has called "Amazing!" See sexy burlesque interpretation of some of your favorite characters as they shed their inhibitions as well as most of their clothes on stage!
This year includes several all new acts including some that have to be seen to believe! Let's just say one of our performers will be getting 98% (N)ood!
Even if you aren't familiar with the show we are parodying, you can't go wrong with sexy aliens from outer space and the show is presented in a way that people unfamiliar with the show won't get lost (as well as special nods to the super-fans)!
Peepshow Menagerie has been providing theatrical burlesque shows to Los Angeles since 2008 featuring many of the best burlesque performers, comedians, magicians, and bands from around the world. This is a great show for newcomers to burlesque, casual burlesque fans, birthday parties, and bachelor/bachelorette parties. Also an ideal date night!
Get there early to take advantage of the comfortable seating. FAIS DO DO is a historical Art Deco Building and this particular show will be taking place in the Ballroom.
"That's Amazing!" ~ Matt Smith (The 11th Doctor)
"L.A.'s wildest burlesque!" ~ Fangoria
Featuring A Cavalcade of Out Of This World Burlesque from:
SCARLETT LETTER
(Most Classic / Best Solo Performance - Boston Burlesque Expo 2010
Most Classic - Boston Burlesque Expo 2007)
JESSABELLE THUNDER
as seen this year on stage at THE BURLESQUE HALL OF FAME
MISS JOSIE BUNNIE
GLAMA SUTRA
LILY SOLEIL
CARAMEL KNOWLEDGE
HOLLY GO DARKLY
DONATELLA MeLIES
GRETA GRENADE
MERCURY TROY
SPY KITTEN
and MORE!

And our 67rd 'Peepshow Pin-Up'
SHEILA STARR
Live Music: TBA
Hosted by:
Eisner Award Winning DC Comics writer
JAMES ROBINSON as 'The Doctor'
and MICAH COVER
as 'The Master'
Burlesque Photobooth! Have your pictures professionally taken with stars of the show!
produced by Scarlett Letter & Chris Beyond
sponsored by Bachelor Pad Magazine
Live at
FAIS DO DO
Friday, August 2nd, 2013
5253 W. Adams Blvd.
Los Angeles, CA 90016
Admission: $12
Doors at 9pm
Doors: 9pm / Music: 9:45 / Burlesque: 10:30
Free Street Parking on W. Adams!
This is an 18 & UP burlesque event.
Only patrons 18 and Up will be admitted with a valid picture ID
For advance tickets and more info as it comes, go to http://peepshowmenagerie.com/ or https://www.facebook.com/burlesquepeepshow
Show Posters: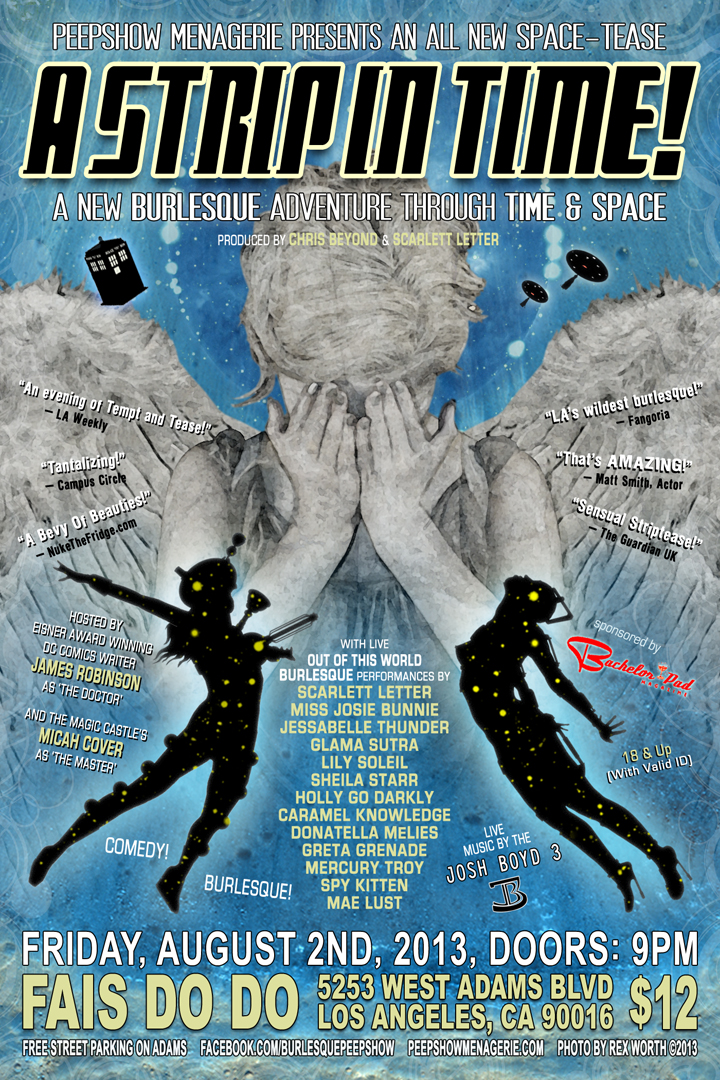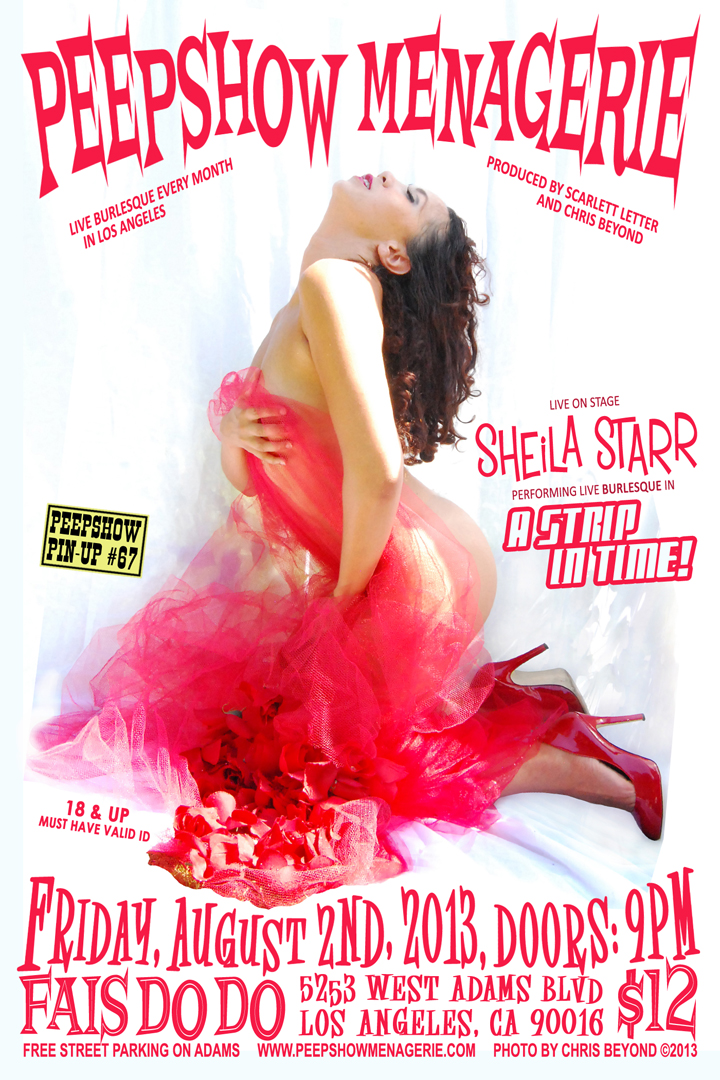 "L.A.'s wildest burlesque!" ~ Fangoria
"An Evening of Tempt & Tease!" ~ LA Weekly
"Tantalizing! Definitely one to check out!" ~ Campus Circle
"Sensual Striptease" ~ The Guardian UK
"The Show Was AWESOME!" ~ http://Hollywire.com/
"A Bevy Of Beauties" ~ Nuke The Fridge
"Celebrates the gratification of sensual appetite!" ~ LA Times
"Lowbrow, fun, confident, and at times I was fearful for my life!" ~ http://Yelp.com/