Subliminalsf presents
SATURDAY SEPTEMBER 14TH
AGALLOCH
(https://www.facebook.com/AgallochOfficial)
WORM OUROBOROS
(https://www.facebook.com/pages/Worm-Ouroboros/250016544916)
LYCUS
(https://www.facebook.com/pages/Lycus/156095311142662)
----
DOORS 8PM / SHOW 9PM
$12 ADVANCE / $15 DOOR
Advance Tickets @ http://www.oaklandmetro.org
----
OAKLAND METRO OPERA HOUSE
(http://www.oaklandmetro.org)
630 3RD STREET (@ MLK) OAKLAND, CA • ALL AGES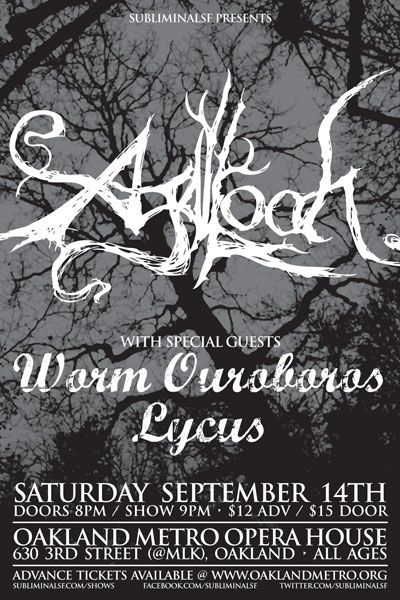 AGALLOCH
For sixteen years the Pacific Northwest group Agalloch has defined what it means to combine influences from a variety of musical genres into one brooding, colossal, and cinematic sound that provides the soundtrack to existential themes concerning man, nature, loss, and death.
Agalloch has earned a reputation for explosive and emotional live performances. They have sold out tours across Europe and the US and have played a variety of major festivals including: Roadburn, Inferno, and Scion among others. The band takes special care constructing the environment of each and every show with wood, incense, and imagery taken directly from their home in the Northwest. Such care makes an Agalloch show more than just a typical heavy metal concert.
WORM OUROBOROS
Worm Ouroboros is Lorraine Rath (Amber Asylum, The Gault) on bass and vocals, Jessica Way (Barren Harvest, World Eater) on guitar and vocals, and Aesop Dekker (Ludicra/Agalloch) on drums. We set out to create music which explores the lines between fragility and strength, darkness and light, harmony and discord. Drawing inspiration from many places, including metal, doom, folk, progressive, and dark ambient genres, Worm Ouroboros creates its own space; a creeping, dark landscape full of murky dreams and emotions.
LYCUS
LYCUS seemingly adds new vitality to the funeral doom genre with Tempest, the album's three tracks consuming nearly forty-two minutes of your soul with each listen. Recorded and mixed at hometown Earhammer Studios with Greg Wilkinson (Brainoil, Pallbearer, Samothrace, High On Fire), the album is literally drowning in an ocean-sized pool of incredibly descriptive accolades from media outlets. While references to Mournful Congregation, Ahab, Thergothon and Noothgrush are inevitable, LYCUS deliver both caustic and clean riffs and interject multiple vocal styles and additional instrumentation which elevate the material on Tempest to their own place among the scene's veterans