Announcing a new Meetup for Milwaukee Company of Gamers!
What
:
Commands & Colors Epic Ancients
When
: Saturday, July 31,[masked]:00 PM
Where
: Superhawk's Game Garage
Private Location Everyone says "Its a lot closer than I thought" when they arrive the first time.
Muskego, WI 53150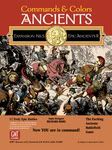 Commands & Colors: Epic Ancients II is the fifth expansion for the Commands & Colors: Ancients game.
Commands & Colors: Epic Ancients II - allows experienced players the opportunity to fight historical ancient battles on an Epic scale. The Command & Colors: Epic Ancient rules are not overly complex, nor do they change the way the basic game system works. The Epic game allows up to eight friends to experience the competitive fun of an Epic size Ancients battle, but Epic Ancients is excellent as a two player game where opponents want to take a little extra time with a battle.
This event occurs during the July Game-a-thon. If you intend to do this event you still need to RSVP to this event to save you a space even if you already RSVP'ed to the Game-a-thon. I will have a waiting list available for this so if it is full sign up for the list and if there are enough people we can do multiple runs.
RSVP to this Meetup:
http://www.milcog.com/calendar/14189349/