Announcing a new Meetup for Milwaukee Company of Gamers!
What: Learn Mystery Express
When: Saturday, May 1,[masked]:00 PM
Where:
Superhawk's Game Garage
Private Location
Muskego, WI 53150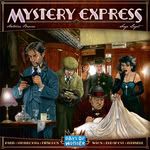 All Aboard the Myster Express! Well, ok, maybe just 5 of us......
This event occurs during the April Game-a-thon. If you intend to do this event you still need to RSVP to this event to save you a space even if you already RSVP'ed to the Game-a-thon.
This is the new Days of Wonder release hot off the presses and it is a nice as all Days of Wonder products.
Whodunit on Rails re-invents the classic deduction-style board game
Los Altos, CA; Paris, France - January 25, 2010. Days of Wonder announces Mystery Express, an imaginative new take on the classic deduction game from Antoine Bauza & Serge Laget. While Days of Wonder's first "whodunit" game, 2003's Mystery of the Abbey, was considerably more quirky and chaotic, Mystery Express explores the more analytical side of the genre, rewarding a logical and more precise approach to solving the crime.
Players board the famous Orient Express in Paris just as a murder occurs. The rest of the trip - through Strasbourg, Munich, Vienna, Budapest and their final destination of Istanbul - is consumed with determining the who, what, when, where and why of the crime. Players use their special powers of deduction; information gleaned from others in various train cars; and investigative actions to determine the exact circumstances of the murder. The one who correctly identifies the most elements of the crime by the time the train reaches Istanbul wins the game.
Learn more here:
http://www.meetup.com/milcog/calendar/13300538/