About the Exhibit
Snow White and the Seven Dwarfs: The Creation of a Classic celebrates Walt Disney's vision and the artistry of his dedicated staff, illustrating how they shaped and defined an entirely new American art form through their creation of this groundbreaking film, upon its 75th anniversary. Guided by the vision of a master storyteller, 32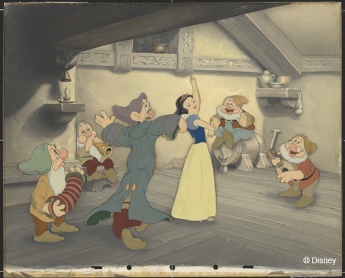 animators, 1032 assistants, 107 inbetweeners, 10 layout artists, 25 background artists, 65 special effects animators and 158 inkers and painters and countless production staff came together to create the masterpiece.
Snow White and the Seven Dwarfs: The Creation of a Classic features more than 200 works of art including conceptual drawings, early character studies, detailed story sketches, and animation drawings. Also featured are delicate thumbnail layout watercolors, meticulously rendered pencil layouts, rare watercolor backgrounds, colorful cels, and vintage posters all illustrating how Walt Disney advanced the creation of an entirely new art form.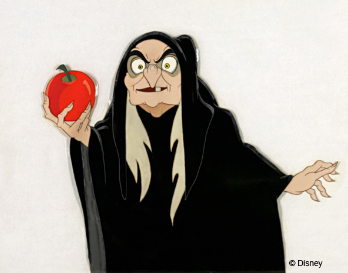 The Walt Disney Studios released Snow White and the Seven Dwarfs at Hollywood's Carthay Circle Theater on December 21, 1937. As the first full-length, animated feature film, Walt Disney's groundbreaking masterpiece drew worldwide acclaim, winning the Grand Biennale Art Trophy from the Venice Film Festival and special awards from the New York Film Critics Circle and The Academy of Motion Pictures Arts & Sciences. The film also received an honorary custom-made Oscar® which consisted of one standard Oscar® statuette alongside seven miniature statuettes (representing each of the Dwarfs).
Snow White and the Seven Dwarfs continues to garner accolades and awards. In 1989, it was among the first 25 featured films to be preserved in the Library of Congress' National Film Registry, and in 2008, it was named the Greatest Animated Film of All Time by the American Film Institute. The film also marked a pivotal milestone in animation. Calling upon the experience they gained from creating the early Disney animated shorts and the award-winning Silly Symphonies, Walt Disney and his artists defined the artistic foundation that would shape all their other animated feature films to follow.
--The above was lifted from the Museum's website.
Time, Place & Money
1:00 Meet at the entrance of the Museum. We will go in at 1:15 sharp.
1:15-3:00 View special exhibit Snow White and the Sevent Dwarfs: The Making of a Classic and the permanent collection if you purchase a combo ticket.
3:00-4:00 Gather in the Museum Cafe for coffee and conversation
4:00-5:30 Screening of Snow White and the Seven Dwarfs (1937, 87 minutes)
The museum closes at 6:00 pm
Combo ticket to the special exhbition and general collection (including film) is $25 ($20 for seniors/students). A ticket to the special exhibit only is $10. You can buy your ticket online here: http://secure4.gatewayticketing.com/waltdisneyfamilymuseum/shop/ViewItems.aspx?CG=WDFMWS&C=EXHIBIT
BAMM fee: There is a $3 fee to reserve your spot with the Bay Area Museum Meetup Group. The fee covers Meetup.com subscription costs and cuts down on no-shows.
Transit and Parking
Here is how to get to the museum, where to park and all that jazz. http://www.waltdisney.org/directions
No Flake Expectations
If your schedule changes, cancel your reservation with enough time for folks on the waiting list to move up. Life happens, but late cancellations (less than 24 hours in advance) should be an exception. No-shows are not nice.
Your organizer does not check email or cell phone for last minute communications. This allows her to greet people who are there and enjoy the museum herself. Thanks for your understanding and cooperation.