Members of My People Connection receive a special discount rate to go to the movies ($6).
Join us in seeing "20 Feet From Stardom"!
We will be attending the 7:50 PM screening of this film.  Meet Harry near the box office.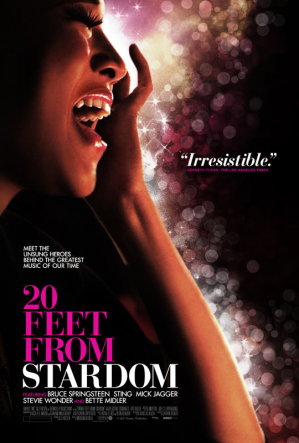 20 Feet from Stardom
Millions know their voices, but no one knows their names. In his compelling new film 20 FEET FROM STARDOM, award-winning director Morgan Neville shines a spotlight on the untold true story of the backup singers behind some of the greatest musical legends of the 21st century. Triumphant and heartbreaking in equal measure, the film is both a tribute to the unsung voices who brought shape and style to popular music and a reflection on the conflicts, sacrifices and rewards of a career spent harmonizing with others.
Runtime: 90 min
Language: English

Director: Morgan Neville
Cast: Bette Midler, Chris Botti, Claudia Lennear, Darlene Love, Gloria Jones, Janice Pendarvis, Judith Hill, Lisa Fischer, Lou Adler, Lynn Mabry, Merry Clayton, Mick Jagger, Patti Austin, Sheryl Crow, Stephanie 'Stevvi' Alexander
THERE WILL BE A DISCUSSION IN THE LOBBY AFTER THE FILM.
What happens at a Laemmle Movie event? When you RSVP your name goes on the "My People Connection" list at the box office and your ticket is just $6!

You can save up to 40% off Laemmle Theatre tickets for special movie night events when you RSVP on our website. It's a great way to save money, see your favorite films, & meet new friends!
Parking Info. : Street meters are free after 6 PM plus there is free parking on the side streets.