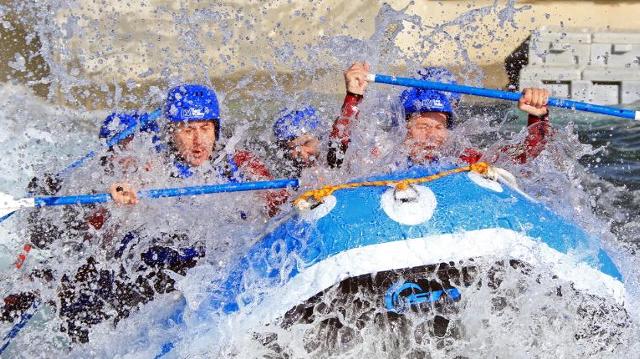 The new White Water Centre in Lee Valley allows you to live out your Olympic dreams – as well as get soaked from head to foot and see your life flash before your eyes. 
Join us and experience the thrills of white water activities at the same world class venue that Team GB won Gold and Silver in Canoe Slalom.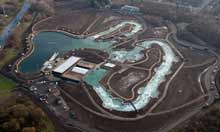 The new white water course at Lee Valley is 300m long – long enough for a serious dunking, but short enough to reach the end without drowning, in the unlikely event that you aren't rescued. The grade four route has a 5.5m overall descent, which may not sound much, but it is full of drops, holes, eddies and seriously fast white water: 13,000 litres power down it every second. It has 62 gates and 1,200 rapid blocks, which can be moved to change the flow of the water.
Price: £58 per person includes rafting, equipment (wetsuit, boots, etc.), snacks and paypal and booking fees.
The White Water Centre.
Even David Florence, who won a canoe slalom silver medal at the Beijing Olympics, admitted that it is a "pretty hard" course. This is where the Olympic canoe slalom events took place. 
The GB canoe team trains there every morning, and international teams are already starting to visit what is now considered the best whitewater centre in the world.
Clothing information
Wetsuits, buoyancy aids, helmets and boots will be provided. If you would prefer to wear your own boots and/or wetsuit please feel free to bring them along. Open toe shoes such as sandals are unsuitable for this activity.
Additional information
Please take the time to read the Safety for Water Users Leaflet 
How to get there
Lee Valley White Water Centre is situated at Station Road, Waltham Cross, Hertfordshire, EN9 1AB. There is free car parking available at the centre. 
By rail
Please check your route before you travel for any transport disruptions. This is only a sample journey checked at the time the event was created and the organiser will not take responsibility for any changes or transport issues that may arise: 
FAQ: 
What should I expect?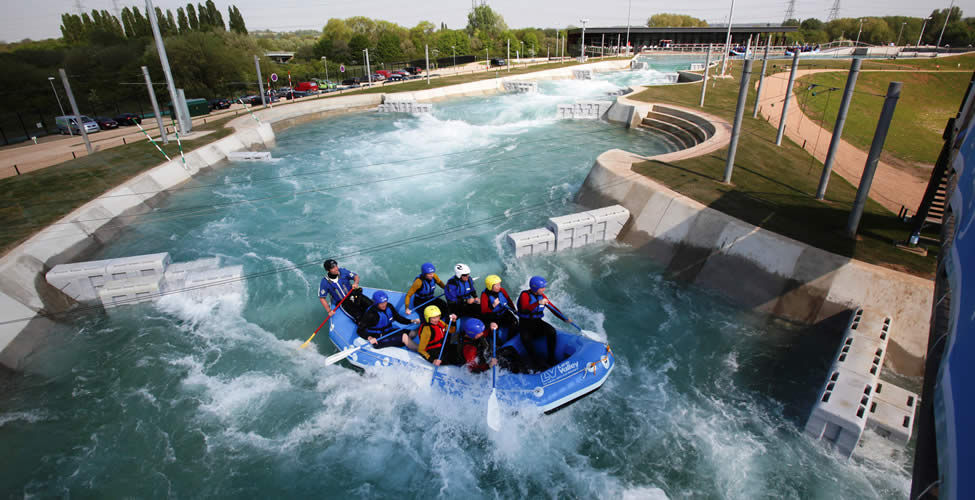 We'll take good care of you from the moment you arrive. Please arrive at Lee Valley White Water Centre 30 minutes before your booking. One of our qualified members of staff will kit you out with all the equipment and clothing you'll need and introduce you to your raft guide and group – now's the time to make friends as team work is key if you want to stay aboard your raft!
Your raft guide will run through a full safety briefing and provide the basics in rafting techniques before taking you onto the lake where you'll take part in an activity assessment. During this we will cover rescue techniques, paddling techniques and how to protect yourself in moving water. From this point on it's action all the way!
Due to the speed of the rapids, this exhilarating experience is not suitable for anyone under the age of 14 and anyone not confident in open water.
What do I need to bring?
All equipment is provided – just bring your swimmers and a towel. We'll provide wetsuits, buoyancy aids, helmets and wet boots. However, if you'd prefer to bring your own wet boots and/or wetsuit please feel free to bring them along – wetsuits must be full length and wet boots must cover your ankle.
What time do I need to arrive and how long will the rafting take? 
Please arrive 30 minutes before your rafting experience is due to start to ensure that you are on time. The rafting session will last for two hours so we ask you to allow three to four hours at the centre from moment of arrival to your departing time.
Upon arrival you'll be kitted out with a wetsuit, buoyancy aid, helmet and boots before going through a safety briefing and the basics in rafting techniques. You'll then  take part in an activity assessment on the lake. During this we will cover rescue techniques, paddling techniques and how to protect yourself in moving water. It's here that you'll learn the secrets of navigating the world class white water course.
How many runs down the course will I get?
The raft guide will tailor sessions so each group will get the very best experience possible. Some people may prefer straight top to bottom runs, while the hardier may prefer to get stuck in and play on the stoppers and waves. Dependant on the type of group and duration of run you should expect several runs down the course.
How long will it take to go down each course?
It will depend on the ability of the paddlers and at what level of difficulty the course is set at. This can be changed to suit people's requirements, along with what activities they are participating in. For example the Games obstacles and gates were set ensuring that the course was a real challenge for the Olympians.
However this can be altered for people of all abilities and together with the Legacy Loop will mean that the centre will be able to offer exciting water sport opportunities for a wide range of people.
Is there a minimum age for white water rafting?
The minimum age for rafting is 14. There is no upper age limit.
I have a disability, can I take part in white water rafting? 
Yes, wherever possible we offer equal access to all people. Please contact the centre to discuss your individual disabilities and requirements.
Do I need to be able to swim?
You will need to be able to adopt and maintain the Defensive Swim position and orientated body position away from danger (lying on back, feet down stream, with legs kept up on/near the waters surface). 
A reasonable level of fitness is required to take part in any physical activity.
Can I wear my glasses?
If glasses are a necessity for the participant of the activity we would encourage plastic lenses or contact lenses as glass lenses are not suitable.
My friends have rafted before, can I still go on the same raft with them?
Yes absolutely, our raft guides are fantastic at judging what each group want and every experience is tailored to each group.
How many people go on the raft?
A raft will contain upto nine people. 
What happens if I fall out?
If you fall out you could well take a tumble into grade 4 rapids, so be prepared. Our bank safety team will be on hand to rescue you and safely help you out of the water before helping you back aboard your raft. You will have been taught the safe swimming position and how to get out of the water in your earlier activity assessment. 
Please note that unless the trip is cancelled the payments are non-refundable as the costs need to be paid in advance. However you may be able to sell your place to your friends or other group members if you follow this procedure;http://www.meetup.com/Curious-Kat-Adventure-Club/pages/What_to_do_if_you_can_no_longer_attend_an_event/.
Contact:
Please note that in order to keep the costs low, the trips are set up in such a way that they can be fully managed online. The descriptions are very detailed and try to answer all your questions and you will find additional information in pages section of the website. Please only email us if your query is not answered in the event's description andplease only call us in case of emergency. I'm afraid we will not be able to get back to you if your query is answered above as with over 60 events coming almost 4,000 members and current volume of emails, this would require hiring admin support and setting up a call centre, which as you can imagine would increase the costs of the events considerably. Please help us provide excellent trips at fantastic value for you and keep your emails to the minimum. Please make sure you read the event's description before contacting us.
Please note this event is organised by Curious Kat's Adventure Club and to secure your place you have to join it via this link: http://www.meetup.com/Curious-Kat-Adventure-Club/events/193137342/. Please note that only once you RSVP and pay the paypal fee on the main site your place will be confirmed.