Hello Theater People!
My name is Marissa and I work for Art Meets Commerce. We are currently representing an exciting new play about art and fashion, and I would like to offer everyone discount tickets to see the preview performances beginning Friday, February 8th!!!
Using the word
artfxxxers
, you can buy tickets for $35 (normally priced at $55-$90).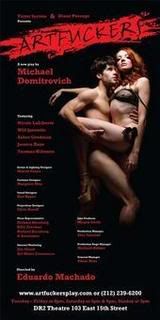 Here is the official description of the show:
"Artfuckers" is a new play about the second generation artistic elite of Downtown Manhattan, the children of the money-art scenesters of the 1980's. It follows a group of young, hot, creative twentysomethings standing at the top of the Celebrity Art World, who are collaborating on their friend's debut showing at New York Fashion week. As they slash through egos, careers and relationships, the real question on everyone's mind is: Are these people successful because of what they do or who they are? Sometimes the line between life and art is blurred beyond recognition.
If you have any questions please feel free to contact me at: mcoronado@artmeetscommerce.net Anyone wanting to see the show must be over 17yrs of age (there is full nudity). You can learn more about the play at:
http://artfuckersplay...
­.
Have a Great Day!
Marissa