Announcing a new Meetup for West Suburban Night Life!
What
:
Sexy Shoes & Sultry Salsa. Ladies show off your sexiest shoes and win!
When
: Wednesday, June 22, 2011 8:00 PM
Where
: The Foundry
85 Executive Drive
Aurora, IL 60504
Ladies, go to your closet and get out your sexiest pair of shoes. You know which pair.
Then bring them to Sultry Salsa & Blazing Bachata Wednesdays for your chance to win a new pair of dance shoes from the 2011 Salsera collection.
Here are the simple rules:
To win, the audience must vote your shoes as the sexiest shoes.
Voting is solely by audience appreciation, so bring all of your friends that appreciate your shoes.
You do NOT have to dance in your shoes but you will need to WEAR THEM them during the contest which will take about 15 minutes.
If you receive the greatest applause, you win your choice of any pair of dance shoes from the new 2011 Salsera collection.
This contest is for LADIES ONLY. Good luck ladies. Guys you are the appreciative audience. Get ready to applaud your favorite shoes.
The contest will take place at approximately 11:30 pm provided a minimum of 5 ladies are participating, otherwise the contest will be re-scheduled.
Sultry Salsa & Blazing Bachata Wednesdays with El Barón, Jed Walker
Bringing Sultry Salsa to the Western Suburbs
Sultry Salsa Ladies Night is so popular we are bringing it back for another week!
This week is Ladies Night. Ladies receive FREE entry before 9:30 pm if you are on the guest list. Email your name and the names of all of your girlfriends to:
SalsaWednesdaysVIP@SultrySalsa.com
­
for your FREE entry before 9:30 pm. You must enter before 9:30 pm for the guest list to be valid.
Your request must be made by 6:00 pm Wednesday.
Wednesday Night Specials include:
$4 Effen u-call-its
$5 Bombs
$1 Jello Shots
$3 MGD 64 Pints
$5 MGD 64 Mug Refills
$3 Mikes Hard Lime
$2.50 Sports Drinks, and Energy Drinks
$1.50 20 oz Bottled Water
$2 Build-a-Burgers after 9P.M. Kitchen is open until 1:00 AM!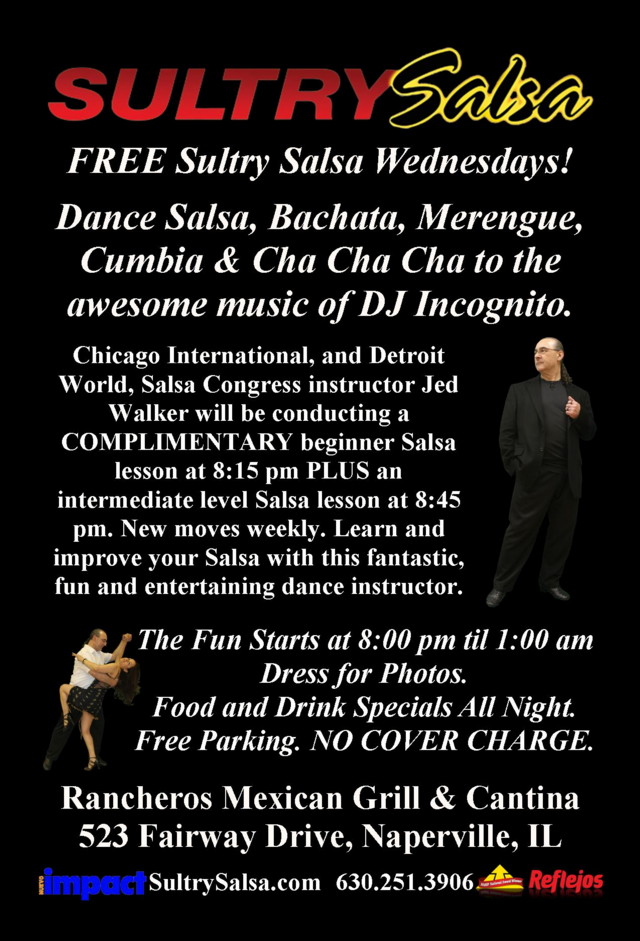 Dance Salsa, Merengue, Bachata & Cumbia to the music brought to you by DJ Tony Coix until 1:00 AM!
The fun starts at 8:15 pm with a COMPLIMENTARY beginner Salsa lesson with Chicago International, and Detroit World, Salsa Congress instructor Jed Walker PLUS a Blazing Bachata lessonn at 8:45 PM.Exciting new dance moves that you can use every day are taught each week. Learn and improve your Salsa and Bachata with this fantastic, fun and entertaining dance instructor.
>
NO PARTNER IS NECESSARY as we rotate partners throughout the lesson so by the time the dancing starts you already know a lot of people.
LET'S DANCE! Dancing until 1:00 am at The Foundry.
Dress for Photos. 21 and over to enter. Huge, Free Parking Lot.
$7.00 Cover Charge.
I am looking forward to seeing you there.
Thanks so much,
El Barón, Jed Walker
THANK YOU SO MUCH FOR YOUR PARTICIPATION AND SUPPORT OF SULTRY SALSA WEDNESDAYS IN THE WESTERN SUBURBS!Check it out!