Please give PAID DUES a warm welcome to the 21st century…cus we've gone mobile!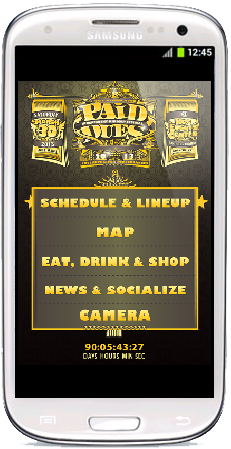 - Create your PERSONAL SCHEDULE of performance times
- Peruse through the EAT, DRINK & VENDOR options without ever leaving your seat
- Locate ATMs, restrooms, First Aid stations, and more essential points on the EVENT MAP
- Capture moments on the FESTIVAL CAMERA and share it instantly on Facebook, Twitter, & Instagram
- Get PUSH NOTIFICATIONS directly to your phone of changes, announcements, & contests!
- And so much more!
MOBILE APP FOR IPHONE COMING SOON!
---
EVENT MAP
Know the venue like the back of your hand to ensure you get the most out of your music-filled day!
---
FREQUENTLY ASKED QUESTIONS…ANSWERED!
Head over to our FAQ's portion of the website to get all your frequently asked questions answered.
---

---