Hello Fellow Organic Produce Enthusiasts! Thank you for your interest in the Inland Empire Organic Produce Buying Club. The IEOPBC makes buying fresh, wholesome, organic produce easy and affordable. Please read this page for more information. If you still have questions, please don't hesitate to contact our Organizers. We hope you will join us and we look forward to seeing you at our next Meetup!

Who We Are
The Inland Empire Organic Produce Buying Club consists of a group of people from the community in and around Cherry Valley and Redlands, California, and is co-organized by Jei Roberts and Mona Beck. The IEOPBC was was founded by Alexis Black in September of 2007. Our organization is volunteer based. We are a California Nonprofit Mutual Benefit Corporation. Anyone is welcome to join, participate, and volunteer.

Our Purpose
The main purpose of the group is to pool our money so we may buy organic produce in bulk, at wholesale prices. The organizer will collect the money and use it to buy cases of organic produce from wholesalers and local organic farmers, then we divide the produce equally between participants. Out Meetups also offer us a time to get together with like-minded people to exchange ideas about anything organic (recipes, organic gardening tips, etc.)

Our Mission Statement
In addition to receiving superior quality organic produce at wholesale prices, our goal is to support organic farming, in particular, local, organic farmers. We strive to increase awareness of the benefits of consuming organic versus conventionally grown. We encourage families to consume a variety of healthy fruits and veggies. We work together for the love of health, community, environment, and real food.

Organizing a group like this is a very time consuming and labor intensive, and cannot be accomplished by the organizer alone. In order to keep the cost down, we ask that each member volunteer in some capacity to help set up, run, and clean up after the Meetup at least a few times a year, if you are physically capable.

What You will Receive
The items purchased will be selected by IEOPBC Organizational Team based on several factors including price, availability, season, freshness and demand. Each week the produce is different. Please help the Organizers decide what to purchase by responding to our polls. To see examples of shares from previous meetups, please view our Photo Album. We will do our best to obtain high quality, seasonal produce from wholesalers and local farmers. If you are dissatisfied with the produce you receive, please provide feedback and tell us what you can do to help us improve.

Cost
Participation is $28 per share. $21-$23 is used to buy produce, $0-$2 is used to help pay for expenses (mainly delivery fees, which we can sometimes negotiate for free), and $5 to reimburse the organizer for all of the work it takes to manage one of these Meetups. One share consists of a basket containing an assortment of fresh, organic vegetables and fruit. All payments are non-refundable. Your $10 annual membership fee is earmarked for the payment of the various permit fees required to run the group, and for any taxes that we are required to pay. Any money left over is saved for the future purposes of the group.

The IEOPBC currently has two Meetup locations: The Highland Springs Resort/Grand Oak Steakhouse[/url] in Cherry Valley, a truly beautiful and one-of-a-kind destination, and the Moose Lodge in Mentone, which is full of the nicest people in the I.E.!

Payment: Since we are pooling our money to purchase each week's produce, payment must be received in advance. Please pay online for the next Meetup by following the instructions on the RSVP page for the date you would like to participate. Please visit our Calendar for details.


RULES
Please read and agree to the following rules. These rules may change without notice, so please check back from time to time:
All participants will be required to sign a release of liability waiver. This form must be signed by every person participating in any activities conducted by the IEOPBC.
All payments are non-refundable. You may pay online, through Paypal, or in advance, in cash, at Meetups. Checks are accepted from established members. If you paid via PayPal and do not see your name on the list you must contact the Organizers immediately. All payments are non-refundable.
You may participate bi-weekly, or whenever you wish.
Shares may be paid up to four weeks in advance. Your payment will be used for the following Saturday if not specified at the time of payment.
Participants must pick up their share on the date designated on their receipt. If you need to change the date of your pick up you must email IEOrganicProduceBC@gmail.com before Tuesday at 7:00 p.m. (the week of your scheduled pick up) AND receive confirmation from one of the Organizers. If you fail to claim your share, it will either be sold or given away at the discretion of the Organizers. If you are unable to make it to a Meetup due to an emergency, please contact the Organizers A.S.A.P., even if it is after the Meetup. Each emergency will be evaluated on a case by case basis, and its outcome will be determined by the organizer. In the case of an emergency, we will do our best to sell your share(s) to another member and give you a credit for your share if it sells. We cannot make any promises, as your share may not sell. It is the member's responsibility to contact the Organizers about an unclaimed share. Please contact the organizers by clicking the "email me" button under IEOPBC Organizers that you will see to your left.
If you find one share is too much produce for you, or more than you wish to invest, try teaming up with a partner and split a share between yourselves. Please don't ask the Organizers to split shares. If you live far away, you may wish to connect with other participants in your area so you can take turns coming to the Meetup and picking up produce for both of you. Please feel free to use our message board to form teams and make connections with other participants.
Please bring your own box, cooler, or re-usable totes to carry your share. It is a good idea to recycle plastic bags. Many members use Green Bags to help preserve their produce.
The IEOPBC Organizational Team will do her best to divide the produce equally. When we buy produce, we have to purchase cases. The quantity of items in a case may vary. When we divide the produce between participants, everyone will receive an equal number of the same (or comparable) items. After everything has been divided, the remaining odds and ends will be added up, then divided between participants. For example, if we have 50 participants, and everything has been equally divided into shares, suppose we have remaining 17 spinach, 20 broccoli, and 25 celery. That is a total of 62 odd pieces. Each participant will receive one of the three remaining items. Extra produce and unclaimed shares will be given away at the Organizers' discretion. As a reward for their efforts, and
IF there is any produce left over
, volunteers may be given a "goodie basket".
Everyone will receive an equal share (to the best of the team's ability) and everyone will receive basically the same items (with slight variations). Please be aware that the baskets are filled by volunteers, so there is a possibility of mistakes (this is rare). We have a sign board at the Meetup that lists the items in the shares, if you do notice a mistake, please notify us. If you find you are allergic to an item or can't use it, please see if you can trade with another participant for something you do like. Please do not expect the Organizers to trade items for you (but please ask, we may be able to) and please NEVER switch items between baskets. When the Organizers place the order, they will consider several factors including: number of participants, availability and freshness of produce, price, which types of produce are high on the list of those with the most pesticides in conventionally grown produce, and what we think most people in the group will be able to use. Participants will not get to pick and choose what produce they will receive. Shares are presorted. One basket equals one share. Items will be different every time. The produce is straight from the farm, and must be washed before use.
The Organizers will arrive at the venue about 1.5 hours before the Meetup to separate the produce into shares. If you arrive at the venue and find us not there, we were probably detained at the warehouse or farm and will arrive shortly. Please set your Meetup email preferences for this group to allow correspondences from the group Organizers.
When We Meet
Meetings usually begin at 9:30 and end at 11:00 am. 10:00 am is listed as the official start time in Cherry Valley so that everyone does not show up at the same time, only those taking the time to read this know this secret! Rarely, we may run behind schedule because of traffic, weather conditions, last minute changes from the farms or our distributor, or lack of a sufficient number of volunteers. Please do not leave negative feedback if we happen to start a little late. If you cannot make it to a Meetup to collect your share, please send someone to do it for you. The Organizers will leave the venue when all shares have been distributed, or at 11:00 am, whichever comes first.
RSVP
Please RSVP even if you have already paid in advance. RSVPing on the meetup site allows you the ability to rate the Meetup. It also helps with our group rating on Meetup.com. Please RSVP either "yes" or "no". You can always change your RSVP if your plans change. RSVPing
does not
insure you will receive a share of produce. To receive produce, you must pay in advance, either at a Meetup or online. RSVP "yes" only for the following Saturday and ONLY if you have read and understood these rules.
What Happens to Unclaimed Shares
If you fail to claim your share, it will be given away at the discretion of the Organizers. If you are unable to make it to a Meetup, please contact one of the Organizers even if it is after the Meetup. We will do our best to sell your share(s) to another participant and give you a credit for your share if it sells. We cannot make any promises as your share may not sell. Please contact the organizers by clicking the "email me" button under IEOPBC Organizers that you will see to your left.
How You Can Help
If you have a garden or fruit tree with too much organic produce, please consider donating it to the group. Please also let the Organizers know of any local organic farmers who have available produce.
Please volunteer your time, talent or resources to the IEOPBC. This is a volunteer based club. If every member could volunteer at least once, together we can accomplish much more in less time. Please email the organizer if you wish to volunteer.
Please contact the Organizer's if you wish to donate a basket of produce. We are not a 501(c)3, so we cannot offer any tax write-offs.
If You Have Questions
If you have questions, comments, or suggestions, please post on the message board or email the Organizers. Thank you for your participation.
Alexis Black
Founder IEOPBC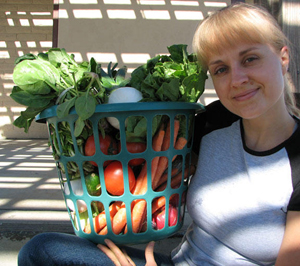 Buy IEOP Gear