For information or registration, contact D. M. Gremlin Studios:
studio@dm-gremlin.com or 866-334-4364D. M. Gremlin Studios, Long Beach CA
Artistic Figure Lighting Workshop
Sunday July 1, 2012 ~~ 10am-7pm
Limited to 6 photographers (TWO spots remain open)
Instructor: Wendy Levin
(wynnesome), D. M. Gremlin Studios owner and published fine art nude photographer.
Models:
The amazing couple,
Rusty Shackelford
and
Katz Pajamaz
.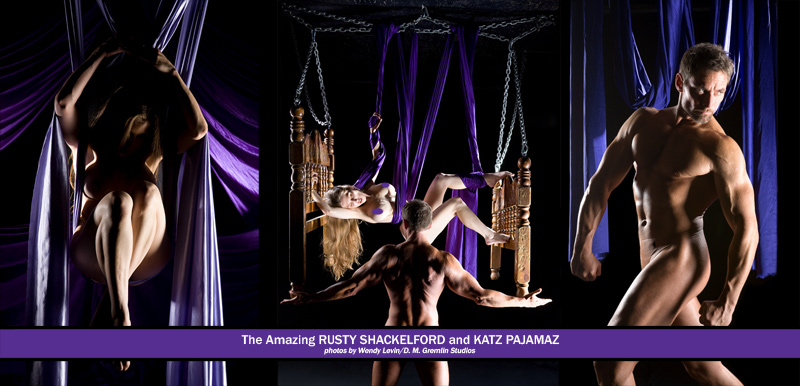 We will be covering lighting techniques and shooting sets for male and female figure nudes and bodyscapes with each model individually and as a duo.
This is a figure nude workshop, NOT an erotica workshop
, however we do expect a tasteful sensual dynamic in couples sets with Rusty and Kat, who are both a married couple, and longtime professional art models.
This workshop will be a respectful and artistic environment, and creates an excellent opportunity to explore the power of the male figure nude along with the enduring beauty of the female form.
Registration: $200 for the all-day event
, including lunch and promotional model releases ($208 for credit card payment via PayPal).
Outline of itinerary:Morning session:
10:00am-1pm - lighting techniques and individual shooting sets with each model
Lunch break:
1-1:30pm (lunch provided for participants)
Afternoon session:
1:30-4:30pm - lighting techniques and couples shooting sets with both models as a duo
Break and signing of model releases:
4:30-5pm
Final open shooting session:
5-7pm - continued shooting with any of the techniques and themes presented during the day
Our December figure nude workshop sold out well in advance, and we're looking forward to a great turnout to explore artistic lighting and shooting with these two wonderful models!