Hello WAP folks,
Come on out and support the group, and our amazingly talented members. The Let there be Light exhibition opens tomorrow night at the city hall Tree Lighting and the skating rink will be officially open! Details below.
I also wanted to share the note I found in my inbox with morning from Erin Williams, the city's Cultural Development officer...
Donna, Scott, Anne, Howard
and all the wonderful artists who are participating in the Worcester Windows exhibition,
The Let there be Light art installations are a true delight. Many thanks to all of you for your sharing your enlightening work with Worcester residents and friends. Tomorrow night thousands will be attending the Festival of Lights on the Worcester Common and visiting your work. And in the weeks ahead we hope hundreds will be touring and enjoying the exhibitions. Your art reflects the truly creative and collaborative spirit of our community, a gift to the city. And I hope all of it sells! We are fortunate to have such talent among us.
Many thanks,
Erin
Erin I. Williams
Cultural Development Officer
455 Main Street Room 402
Worcester, MA 01608

[masked] ext. 265
www.worcestermass.org/culture
Worcester: the creative city
Worcester Windows: Let There Be Light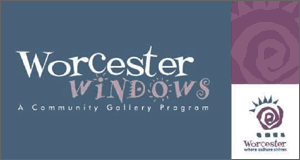 Art - Exhibit
Friday, November 30, 2012 - Tuesday, January 15, 2013
Worcester City Hall
455 Main Street
Worcester, MA 01608
Google Maps - MapQuest
The Worcester Windows Winter exhibition features the work of seven artists working across a range of mediums which include LED light installation, black & white and color photography, oil painting, ink drawing on paper and image transfers on plexi-glass all working under the unified theme of Let There Be Light!

Downtown community gallery footprint includes windows on Portland and Franklin Streets, as well as Worcester City Hall Gallery.
Cost: Free, self guided tour throughout downtown community gallery footprint
Public Woo Card: Swipe your WOO Card on Opening Night being held in conjunction with City's Festival of Lights on Worcester Common

College Woo Card: Swipe your WOO Card on Opening Night being held in conjunction with City's Festival of Lights on Worcester Common
Sponsored by: Worcester Cultural Coalition, Worcester State University, Greater Worcester Community Foundation
Suggested Audiences: High School, College, Adult, Elders
Website: http://www.worcestermass.org/arts-culture-entertainment/arts-culture/worcester-windows
E-mail: [address removed]