Queen Mary 2 Visits San Francisco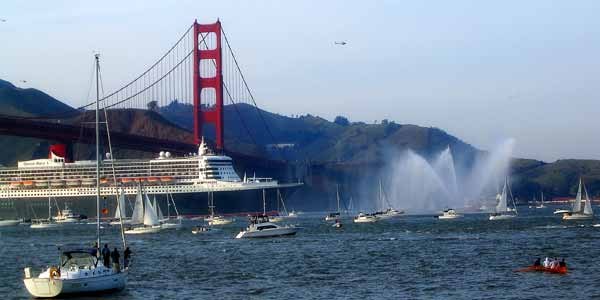 Historical Entrance
The Queen Mary 2 made its historical entrance into the San Francisco Bay as the largest ship ever to pass under the Golden Gate Bridge.
Click above for more images

This photo is now featured on the Front Page of CNN I-Report. Image at the top left under "Spotlight". It's an changing image. If you don't see mine, click on "Queen" under the main image:
Front Page of CNN I-Report

San Francisco Bay - Feb 4, 2007
At 4 pm today, the Queen Mary 2 made its entrance into the San Francisco Bay as the largest ship ever to pass through the Golden Gate Bridge. Thousands of people from all over the Bay Area and beyond came to witness this historical moment on this sunny Sunday afternoon.
Cruising on a westward around-the-world voyage with 2,638 guests aboard, the QM2 sailed from Fort Lauderdale, Florida for 13,880 nautical miles around Cape Horn of South America as it is too larges to pass through the Panama Canal.
Everybody tried to seek a vantage point to have a good look of the Grand Dame of luxury liners that measures 1,311 feet long and displaces 151,000 tons. By 2 pm, parking at the prime waterfront viewing area from Fort point, Crissy Field to Fort Mason and Aquatic Park was almost impossible to find and the park rangers had to close some of the access roads.
The bay was crowded with vessels of all sizes from tour boats, sailing yachts to row boats and a kayak or two. The pedestrian walkway on the Bridge was lined with people eager for a glimpse. A few helicopters were hovering above.
By 3 pm, the scheduled arrival time, some people become impatient when the cruise ship was nowhere to be seen. Fortunate for many who still looking for parking space, the mega ship was running late. When the QM2 finally appeared, the crowd cheered and clapped and traffic on the Golden Gate Bridge stopped cold when the mega ship sailed majestically under the Bridge blowing its deep whistle, an hour late. Bottles of champagne were popped both on-board and ashore.
It was a memorable balmy Sunday afternoon for both the passengers and the spectectors.
Enjoy
PH