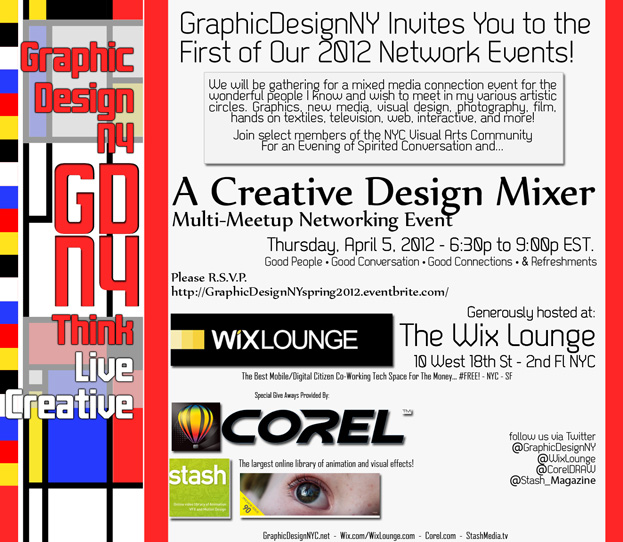 Show your support & please be sure to follow:
@GraphicDesignNY - GraphicDesignNY Blog - GraphicDesignNY Meetup
@WixLounge
@CorelDraw
@Stash_Magazine
Wix is a great space to work for the modern tech entrepreneur and mobile media people. They have a free space in the fashionable, centrally located Flat Iron District in Manhattan. Check them out at WixLounge.com. I have met some interesting and knowlegable connections there. They also hold very cool events pretty often.
Give-Aways From Some of Our Supporters!
Corel produces some of the best and easiest to learn digital creative software in the market. It was actually the first vector program I ever used way back when. They have a comprehesive line for illustration, paint, video and DVD production that is worth checking out if you are a visual design artist. CorelDraw.com
Stash Magazine is a must have in every creatives video library. I learned of them when I first got involved in editing and motion graphics and they have been an key source of inspiration and awe ever since. Stash Magazine is the online news, research and inspiration destination for everyone interested in animation, motion graphics and VFX. If spectacular, eye popping, mind boggling visual imagery is your thing, then you need to bookmark them! StashMedia.tv
Don't forget to check out (AND JOIN) GraphicDesignNY Meetup groups!!!
Graphic DesignNYC Meetup Events

NYC Photoshop Group

Brooklyn Creative Freelance

NYC Photo Shoot Off

Textile Arts Meetup
Thank you for your support!