Please Note: Read the directions carefully below before you RSVP 'Yes' for this event.
1) I am hosting this event for both Gay Foodies and Pleasure Palate.
2) This is a two part event that involve having lunch at CA Gogi Korean Grill and then attending ScareLA.
I am being up front: I will be a panelist at the 3 PM panel session. You do not need to attend the panel session and can leave whenever you want to after we arrive at ScareLA.
3) To purchase your tickets one day pass for ScareLA, go here: http://scarela.com/tickets2014/
I am planning to attend the Urban Death show at 4:30 PM that costs an additional $5

Last year I attended the inaugural ScareLA show and learned more about the haunted house scene in LA along with getting to see a special Wicked Lit show. This year, it looks like the show will even be bigger and possibly better. I will also be part of a panel presentation discussing spooky places in the LA area. So come join me for a frighteningly good time at ScareLA and have lunch at CA Gogi Korean Grill.
First Stop: Lunch at CA Gogi Grill
Yelp reviews: http://www.yelp.com/biz/california-gogi-korean-grill-los-angeles?osq=lunch+restaurant
2nd Stop: ScareLA at 1933 Broadway, Los Angeles, CA 90007
From their website:
1:30pm: Meet the KrampusThe obscure 17th century European legend of Krampus has been creeping his way into pop culture in recent years, as the story of Santa's evil, naughty child eating counterpart has appeared in greeting cards, haunted attractions, and a number of upcoming feature films. Plunge into the deepest, darkest roots of Krampus folklore with a cavalcade of rare slides, costumes, and a show and tell from LA's leading experts on the Alpine legend, Al Guerrero and Al Ridenour of Krampus Los Angeles. After whetting your appetite for the blood of naughty children, Guerrero and Ridenour will fill you in on local Krampus fun and games, and how you can help stem the tide of misbehaving children at this December's second annual LA Krampusfest.
2:30pm: New Haunts on the BlockJoin Todd Schroeder (Evil Twin Studios), Lawrence Lewis (Alone: An Existential Haunting), and Gregg Curtis (Savage House) as they discuss their new haunted attractions here in Southern California, and what terrors to expect from their teams this Halloween season!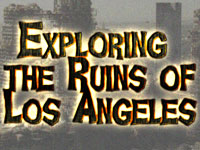 3:00pm: Exploring the Ruins of Los AngelesEvery Halloween everyone has a great idea to go out and do something creepy. The urban explorers from Atlas Obscura share their favorite spooky off the beaten path locations. Locations include LA's secret tunnels, abandoned prisons, botanicas, and the weird nooks and crannies we pass by on a daily basis.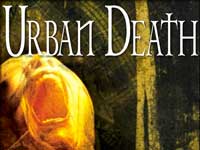 Urban Death at ScareLA12:30, 2:30, & 4:30: A special edition of LA's most terrifying theatre experience comes to ScareLA, sure to test the nerves of even the most seasoned haunt goers! Zombie Joe's Underground Theatre Group's all-new fun and frightening immersive theatrical attraction, will steer thrill-seekers through a terrifying, tantalizing journey of inexplicable horrors, unfathomable monstrosities, and the disturbed spirits that walk among us! Performance directly followed by an in-depth discussion panel with highly-disturbed (yet warm and loving) URBAN DEATH creator/directors, alongside their fearless cast and crew. Directed by Zombie Joe and Jana Wimer, this creepy-freaky 22-minute URBAN DEATH experience is not to be missed! Three shows per day on both Saturday & Sunday. $5 admission with ScareLA ticket. Times and tickets on sale soon!