IMPORTANT: Please RSVP to get on the Waiting List until you purchase your ticket to this event.
Once purchased, mention in your RSVP that you have paid for your ticket and I'll change your RSVP to Yes.
Maximum of 40 for this event, which will be cross-posted to a couple of other groups. This event is first come, first served.
See ticket info in the event write-up below.

Photo is Mandatory for Event Attendance. Click Here to See Photo Requirements!
When it comes to pork, I'd say that Philippines certainly know their way around cooking it. My ears still echo with Anthony Bourdain announcing on his show that our lechon aka roast pig is the BEST Pig Ever. Who am I to argue with a culinary giant? But when you pair pulutan and beer, life can only get better. So what's pulutan? Well, it's Filipino for the food that's best eaten with beer and what's one of the best things eaten with beer? Why, pork of course!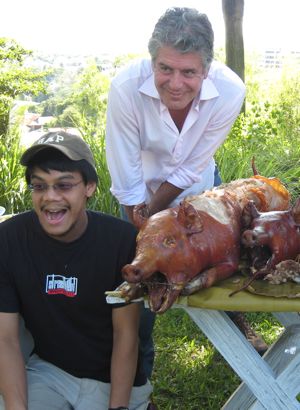 For this Pork and Beer Pairing Event, I'm partnering with Pig Parts and Beer Founder, Karena Higgins, former owner of Butter Tart and co-blogger, Haydee Vicedo. The goal for Pig Parts and Beer is to become a Filipino-American lifestyle blog that revolves around supporting and promoting Filipino food and drink. That support is going to come in the form of Filipino Food events starting with this one. See all the info below.
The Food will be provided by:
Curbside Craving, a Filipino Food Truck
For the Beer:
2 will be Craft Beers Chosen by Michael Milan of Verdugo Bar
2 will be Craft Beers Chosen by Eagle Rock Brewery
Location:
The location of this event will actually be at Karena's home in Glassell Park with a beautiful view of Los Angeles. You can see available street parking; however, you should know that Karena's home is on a hill, so the further down you park, the further up you'll have to walk.
Shuttle parking will be available at no cost and the first pick up will be at 5:15 pm. The pickup locations can be seen at the pink happy face circles below.
Raffle:
Attendees who arrive and check in between 5:30 pm and 6:00 pm will be eligible to enter a raffle to win a gift pack of beer worth $50.
***** ***** TICKET INFO ***** *****
Please send $35.00 to Karena's email address, which is [masked], via Pay Pal (www.paypal.com)
OR
Make check out to Karena Higgins for $35 and mail to:
Karena Higgins
4585 Round Top Drive
Los Angeles, CA 90655
. **NO REFUNDS after September 9!
***** ***** ***** ***** ***** *******
For $35.00, this event will include:
Pork Lumpia Shanghai paired with a Beer Margarita featuring San Miguel Beer, a Filipino beer
Crispy Sisig with Rice paired with Craft Beer (Michael's Choice)
Mini Tocino Burger paired with Craft Beer (Eagle Rock Brewery's Choice)
Pork Adobo paired with Craft Beer (Michael's Choice)
Coconut Ice Cream Beer Float with Craft Beer from Eagle Rock Brewery
This is definitely going to be a fun event and I hope you can join both me and Karena in a wonderful and delicious exploration of Pork and Beer! :)