***Backup Event Message: This event may not be hosted.

Bring water and all the normal things you're suppose to bring for outdoor play in San Antonio. Behave :)

Be prepared to decide as a group or an individual, how far and how fast you guys want to ride.

As a group, we're traveling and trying out new things more and more which isn't always convenient for such a large group. So to give everyone an opportunity to be active in the city even if it's just a couple hours, here is a backup event that is local. ***


We'll meet across from La Tuna Grill in a public parking lot along the river which is next to Blue Star Contemporary Art Museum. Plan ahead for the time you'll need time to get your bikes ready to roll. I'll bring an air pump so we can top off but a second pump wouldn't hurt.
There could Be construction in the area.
Need list:
tire tube repair
water
helmut
Snack if you need it

Full trip is 16 to 22 miles (if you hit up every Mission)
Map: 

http://www.sanantonioriver.org/mission_reach/documents/Mission_Reach_Map.pdf
http://www.nps.gov/saan/planyourvisit/hikebike.htm

Hike and Bike Trail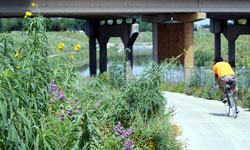 NPS
Click here for possible closure/alternate route information and map.
Updated: 11/8/2013
Mission Portals connect San Antonio's four historic missions – Mission Concepción, Mission San Jose, Mission San Juan and Mission Espada – to the San Antonio River. These connections feature historic and artistic interpretations of the story of the missions and highlight their social and cultural importance to the area. This reinforces the importance of the river to the missions and encourages visitors to circulate between the Mission Riverwalk and the river. Project planners worked closely with the National Park Service to ensure that there would be a seamless transition between the Mission Riverwalk and the historic missions.
Ask a Ranger or Docent at one of the missions for additional information.
Transportation map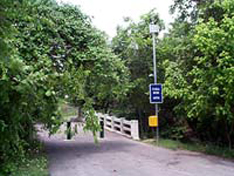 Call Boxes on trail
Wending along side the San Antonio River, through old neighborhoods and farmlands, the Mission Hike and Bike Trail provides respite from the daily pressure and grind of city life. From Mission Concepción to Mission Espada, eight (8) miles of dedicated paved pathways are reserved for the hiker and biker. An easy walk or ride, it is suitable for even young members of the family.
The trail is not a loop, so the round-trip path is actually 16 miles. However, walkers and bikers can start at any of the four missions and travel to the next mission, making the round trip only six (6) miles.
Water is available at each mission. Food is available near Missions Concepción and San José, but not near Missions San Juan and Espada, so plan accordingly. For safety, please wear a helmet