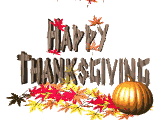 In recognition of the Thanksgiving Holidaythis week's lesson on November 23, 2011 will be CANCELLED and will commence the following week, November 30, 2011. We'll keep you posted as to any changes, if any.
In the spirit of this holiday we want to express our eternal thanks to those that have supported Salsabroso and Salsa dancing!!
Know that you all are in our prayers and as we say Grace at our Thanksgiving table you all will be in our hearts and minds.
Here's to you and yours during this special holiday.
See you all next week on the 30th! Love yas.
Felicidades and