NOTE: Registration for this event is being managed via Eventbrite.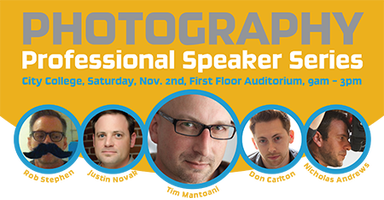 Join us on Saturday, November 2nd as the Photography Professional Speaker Series returns to San Diego City College! Local photo industry leaders will present a series of programs to appeal to all photography enthusiasts, including:
• The Workshoppe (Don Carlton and Nicholas Andrews)
• Modern Minimalism - My Journey in Photography (Justin Novak)
• Photo Monkey (Rob Stephen) 
• Keynote speaker Tim Mantoani
Tim Mantoani has received much acclaim for his recent book Behind Photographs, Archiving Photographic Legends. This personal project created portraits of famed photographers holding prints of their most iconic image, all photographed by Mantoani on a massive view camera. Legendary rock photographers Jim Marshall and Michael Zagaris have sat for 20x24-inch Polaroid portraits, as have Walter Iooss, Timothy Greenfield-Sanders, Pete Turner, Elliott Erwitt, Mary Ellen Mark Roberto Salas, and many more. The book may be purchased at a reduced price with your ticket, and autographed by Mantoani at the event. 

Hosted by ASMP San Diego President William Morton, this full day of programs is designed to inspire photographers of all experience levels. Produced by Show Organizer Tony Amat and Event Coordinator Amy Kachinsky, this seminar's sponsors include Nelson Photo, Burrell Professional Labs, Nik Software, BorrowLenses.com, ASMP San Diego, and De Alba Design. 
SDCC students, faculty, and professional affiliations (ASMP, PPA, PPSDC, APA) are offered discounted rates for this event. Tickets are limited, so we encourage you to register early to guarantee your seat!