It's that time of the year again when we head out to The Salton Sea for a trip to Salvation Mountain and a visit to the Slab City Talent Show. Located 120 miles east of San Diego.
Slab City is an assemblage of mostly "recreational vehicles"; a community that formed on its own, without any apparent organizational force. Located at the site of a former military base, on the edge of the Chocolate Mountains, an active bombing range in the Imperial Valley, Slab City gets its name from the prevalence of concrete aprons--or slabs--at the site. A network of roadways and slabs accommodate a community of up to a few thousand occupants in the cooler winter months. The populace is comprised of all sorts, from "road warriors" living in buses that haven't moved in 20 years, to "snow-birders"-- retired folks who migrate to warmer climes in their RV's in the winter. This varied mixture of people get along and seem to enjoy the variety of attitudes at Slab City.
Salvation Mountain is a non-religious, man-made mountain of outsider art created by one man, Leonard Knight over a span of nearly 30 years:
East Jesus: Charles Russell, a talented artist and one of those guys who masked a mostly kindly nature with a humorously misanthropic exterior, found a spot just north of The Range, named it "East Jesus" in a nod to its remote location on the way to nowhere, and moved in. When he got there in 2006, his place was a depressing rust-strewn thicket of creosote, tamarisk, and broken glass. By the time Russell died this May of an unexpected heart attack in his mid-40s, it was a work of art.
Salvation Mountain - Official Website - Niland, California
Some videos from Slab City Talent Shows past:
Our American Life: Slab City Talent Show 2009
East Jesus: 'East Jesus' Desert Art Project In Peril | Commentary | SoCal Focus | KCET
We'll be carpooling there so you'll need to organize your ride with the members who are offering rides here. If you're driving, leave your message as to where you'll be leaving from, time, how many seats available (please update as it changes), etc. Riders are expected to chip in for gas.
If you're LOOKING for a ride, leave a message here or contact the drivers.
We'll drive our respective carpools and meet at Bobby D's Pizza Plus at approximately 11:00. There you can say hello to Norma (the owner) and get some breakfast, lunch or a snack before we head over to the Mountain at 11:30-45. How long you stay for the day depends solely on your driver, so coordinate with them. The sunset is around 5:15 PM.
More info will be added as we get closer.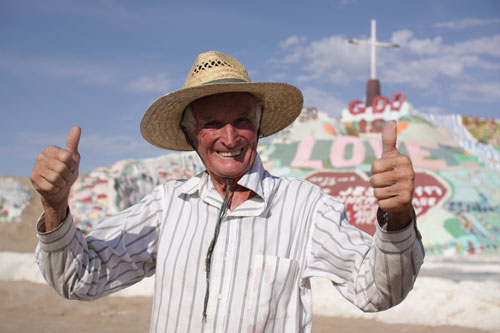 Unfortunately, Leonard will not be there, as he's been placed in a care facility in El Cajon.