Noon:  VIP Vintners Panels
1:30: Cabernet Shootout Challenge and walk around tasting 
3:30 Awards ceremony and raffle
4:00 Event ends 
For many wine enthusiasts, January is associated with a major tasting of Zinfandels.  Now Cabernet fans, thanks to the Bay Area Wine Society and Affairs of the Vine, can also indulge their passion at the beginning of the year in one of the most historic settings in the Bay Area - The Old Mint which dates from 1874 and slated to become the SF History Museum.  Enjoy the experience without the crowd crush of the mega tastings or long drive to Passport weekends. 
 The Cabernet Challenge offers a VIP ticket to attend one of two concurrent PANEL SESSIONS of winemakers who will discuss the nature and nurture of crafting vino:
~HOW PLACE AFFECTS TASTE: How much does terroir play a role in the crafting of Cabernet versus winemaking techniques.  This panel will concentrate on how site influences a winemaker moving from vineyard to fermentation, touching on appellation and specific geographical location, clone preference, vine management, pick date effected by weather, influence of marketing, and the like.  ~THE WINEMAKERS SIGNATURE: This panel will concentrate on stylistic choices in the winemaking process--the winemaker's personal decisions, focusing on such specifics as yeasts, whether to go with whole cluster fermentation temperature and tanks, alcohol content, punch downs vs. pup-overs, barrel age, skin contact time, bottling date and related topics.
After the optional workshops the finalists can be evaluated in a blind tasting. Each Cab enthusiast can select their favorites in a flight of 16 Cabs containing five of the top 10 wines chosen by the panelists.
In this special oenological Pro/Am competition, the results of the professionals'  Cab Shootout will then be compared to the tally of the  'amateurs' Cab Challenge, both tabulated by gender.      
This distinctly different format provides a unique opportunity to compare your top wines to those of the 'tastemakers' in the wine industry.  It also allows participants to sample other than the usual suspects and rate rising star wineries.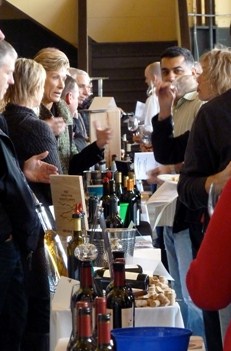 During the afternoon, attendees will also be able to mingle and meet with a number of the vintners from the artisan wineries that participated in the Cabernet Shootout such at  Auburn James, Cameron Hughes, Deerfield Ranch, En Garde, Enoteca Five, Estate 1856, J.Rickards, Pendleton Estate, Penman Springs, Sol Rouge, 3 Steves, and WinerySF in an open walk around tasting accompanied by various nibbles.
Sample wines from a mix of boutique producers from appellations located throughout the state.  Participating wineries can also choose to sell Cabs for take away.
We will also be selling bottles for take away of wines being poured by the participating wineries to raise funds for  One Brick that assists charities with temporary manpower needs. And since we are expecting 30+ wineries  to pour in the walk around tasting, and no more than 250 tickets will be sold, the odds are quite good that you can walk away with a superb bottle of vino.
TRANSIT & PARKING: A block away from BART and Muni Metro, adjacent to the 5th and Mission Garage.
Regular price for Cabernet Shootout Challenge plus meet the vintners & sample their current releases:   $69
Meetup discount tickets : $34; $54 for two / Limited tickets
VIP ticket for Winemakers panel + Cabernet Shootout Challenge + Meet the vintners & sample their current releases: $89 
Meetup discount VIP tickets : $44; $74 for two / Limited tickets
PAY AT http://wine.coop/Events.php