November 1, 2009 · 6:00 PM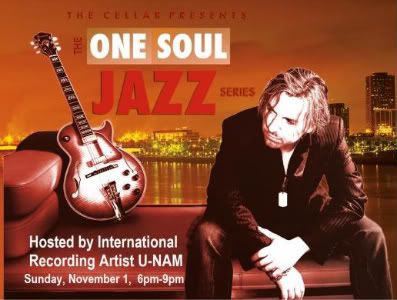 Click the picture to go to The CELLAR website. International Recording Artist U-Nam will be hosting The " One Soul Jazz Series" every Sunday evening from 6PM-9PM. The Cellar is offering a MeetUp Member Special Ticket Price for only $10!. That's a HUGE DISCOUNT-LESS THAN 1/2 PRICE! VIP Reserved Seating for MEETUP MEMBERS ONLY!!! RSVP "YES" AND PAY $10.00 AT THE DOOR. You may bring non-members as long as you are with them.
Click Here to hear U-NAM U-Nam will open the show with his 6 piece band of world renowned musicians. U-Nam's new single "Shine On" has just been released from his latest album, "Unaminity." Hailing from Paris, France, U-Nam best known for his #1 instrumental single, "Street Life" from the CD entitled, "Back from the 80's" topped Billboard's Top 10 charts for an entire year. U-Nam's recently released CD, "Unanimity" is taking the world by storm with his unique guitar sound and funky soul filled melodies.
The Cellar is located in downtown Long Beach and offers an intimate vibe not unlike the nightclubs of a bygone era. Owner, Chef Paul St Bernard offers his signature dishes that include home style cooking at affordable prices.
The Cellar is offering award winning entertainment for a reasonable price compared to most. Last Sunday U-Nam celebrated his Birthday at The Cellar. VIP's and Press from all over the country and several surprise guest musicians showed up for a great night of Smooth Jazz and Funk. Other artists scheduled to appear with U-Nam are Michael Paulo (November 8), Tom Braxton (November 15) and Gregg Karukas (November 22). TICKETS to the General Public are $15 and $25 VIP Reserved
MEETUP MEMBER PRICE $10 This week only! All MeetUp Members will be seated together!