Oi pessoal! Are you ready to celebrate the New Year?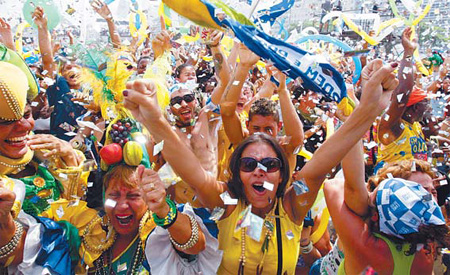 What kinds of New Year's Resolutions will you make for yourself this January 1st? To learn new skills and improve your Portuguese? Or to get ready for that trip to Brazil to see the World Cup and the Olympic Games?
Then I have great news for you! I will be teaching new Portuguese classes in January 2012! All classes will meet at Miami Dade College Wolfson Campus (downtown Miami). They are:Intensive Portuguese 1 (Reference number 694640)This is a grammar class that meets on Mondays and Wednesdays from 6 PM to 9 PM for 42 hours. The start date is January 9th, 2012 and the last class is on February 29th, 2012. This is a beginner's level class, and it is appropriate for those that have no knowledge of the language, or know a little bit, but prefer to start from the basics to strengthen their skills. The price of the course is $155. The book used in this class is "Bom dia, Brasil", by Rejane de Oliveira Slade. You will be using the same book for all levels of Portuguese grammar classes at Miami Dade College, so it is a great investment! Vocabulary, grammar, and listening exercises and activities are integrated into the book. We will explore personal, social, professional, and cultural topics. Music, poetry, and other authentic materials present a panorama of contemporary Brazil. "Bom Dia, Brasil" features new illustrations, dialogues, pair activities, and research projects. You may register for this class by going to www.mdc.edu, or calling (305) 237-3120. Those of you taking this class may complement it with the Conversation class I teach on Fridays! (see below)
Portuguese Conversation Intermediate (Reference number 683988)Fala portugues? This fun class is a great way to finish the week, as it is a dynamic and interactive. This course is a continuation of Portuguese Conversation for Beginners, or an entry level class for students who have some knowledge of Portuguese. In this course the basics of Portuguese grammar are introduced, but most emphasis is placed on listening comprehension and vocabulary building through games, reading, and activities. Students gain greater confidence in using Portuguese in everyday situations through role-play and presentations. Students also learn the difference between formal and informal Portuguese so that they may choose the tone of their conversation when speaking it socially or professionally. The course starts on January 13, 2012 and meets for 14 weeks. The last class is on April 20th, 2012, and the price is $185. Classes are from 6 PM to 9 PM on Fridays, and there are no books needed for the course. To register for this class you may go to www.mdc.edu or call the office at 305-237-3120 or 305-237-3140. When you call them, please let them know the reference number for Portuguese Conversation Intermediate: 683988Please forward this email to any friends, co-workers, or family members who may be interested in learning this great language and having lots of fun at the same time! We hope to see you there!
Obrigada,Eliana
Feel free to contact me if you have any questions.
Obrigada!
Eliana