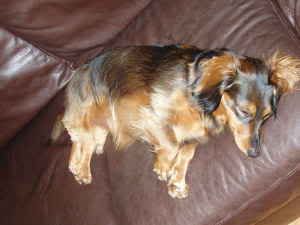 Free to Good Home- Long Haired Mini Dachshund
Reply to: comm-575273277@craigslist.org
Date: 2008-02-15, 4:51PM EST
We have a purebred long-haired miniature dachshund. She?s a lap dog, very sweet and loves attention. She?s approximately 5 years old, 19 lbs and in good health.
We would like to find a good home for her. Ideally, it would go to a family, couple or single person with NO small children or other dogs. She needs to be walked and likes to be the center of attention. She is shy at first but becomes very open and attached when she gets to know you.
If you are interested, please contact me. We will screen very carefully to make sure she goes to a good home.
* Location: Country Walk, Miami
* it's NOT ok to contact this poster with services or other commercial interests