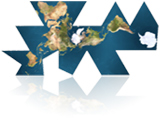 Dymaxion
(tm)
Map
(C)B.F.I.
Over the past 25 years GENI has helped push renewable energy into the mainstream. Interconnections to wind, solar and geothermal resources are linking on every continent. We've earned the endorsements of 7 Nobel Peace Laureates and published widely: www.geni.org
World Resources Simulation Center
We have miles to go... the challenges of the world are many. In our recent move, we've created an immersive visualization space to accelerate good design and decision making: www.wrsc.org
We invite you to support this work today -- and leverage your contribution during the next 24 hours. GENI is participating in the giveBIG campaign with the San Diego Community Foundation. All gifts up to $10,000 will be matched with an additional 20%
It'll make a big difference in delivering on our promise. Here's the link:
From Wednesday, December 14th at 7am PST through Thursday, Dec. 15th at 7pm PST, GENI will be a part of giveBIG San Diego, a program developed by The San Diego Foundation in conjunction with the BetterGiving organization. During these 36 hours, the giveBIG event will be collecting donations that will be partially matched (up to $10,000) by The San Diego Foundation. Though you may choose to donate to GENI at any time, funds will only be matched during the giveBIG event.
Donations will assist GENI in upgrading our IT and marketing in order to expand on the "100% Renewable Energy by 2020 reports" - great research by our interns being distributed to decision-makers globally.
To donate, please visit our GENI non-profit profile page here:
http://www.geni.org/globalenergy/donors/enroll/give-big-campaign.shtml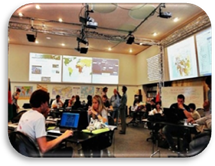 Minimum gift: $25
Maximum gift: $10,000 for match funds
Only gifts made through Visa or MasterCard

will be accepted.
Updates will be posted on our GENI page, Facebook and Twitter.

GENI thanks you for you continued support and donations, which helps reach global businesses, policy-makers, educators and the media on accelerating sustainable energy solutions in every nation.
Happy Holidays!
Our GENI team: Peter, Paul-Michael, Glen, Patricia, Michael and Michael, Mary, Rubi, Julie, Marcus, Etienne, Alyssa, Tania, Justin, Ward, Art, Ben, Kaitlin, Mindy, and Derek.