In order to attend the event, you must purchase tickets on the eventbrite page
#techdrinkup is a party for NYC's brightest and savviest people in tech to get together at exclusive NYC venues and mingle over drinks and food.
Based on the turnout at last month's party at the Parlour, we expect over 300 people will attend!
This month's party will be held on March 1st at 8PM at Cellar Bar
The Cellar Bar is a huge lounge in the Bryant Park Hotel with tons of space to mingle and socialize
Pics from our last party: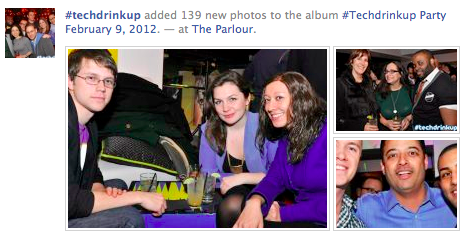 The specials:
Tech swag for attendees:

Tech Drinkup is not for everyone. Here are the people who should attend:
Founders and managers of tech companies

Digital marketers and advertisers

Technology officers and managers

Developers and designers

Creative directors

Online publishers

Venture capitalists and angel investors

Web technology specialists

Systems integrators

Tech journalists and writers

Tech hedge fund managers

Tech attorneys

Tech publicists

Tech recruiters

Tech solution providers

Other tech influencers and people in tech not mentioned above
Check out what people are saying in our Meetup group
People who work for companies that are changing the Internet and changing the world party at #techdrinkup.
Some of our past attendees and #techdrinkup regulars include people from:
2tor ▫ ABC News ▫ American Express ▫ appFigures ▫ AppNexus ▫ Audience Science ▫ Aviary ▫ AXA ▫ Azure Capital Partners ▫ Bank of America Merrill Lynch ▫ BBD0 NY ▫ Beta ▫ Big Fuel ▫ Boxee ▫ Brainscape ▫ Brandwatch ▫ Cardwell+Beach ▫ Carrot Creative ▫ CBS News ▫ CITI ▫ ComScore ▫ Deutsche Bank ▫ EMI ▫ Eventbrite ▫ Flavorpill ▫ Google ▫ Greenleaf Capital ▫ HBO ▫ Hewlett-Packard ▫ Indeed ▫ Insight Venture Partners ▫ Invoke Media ▫ Kaplow ▫ Kohort ▫ Lean Startup Machine ▫ LivePerson ▫ Logicworks ▫ Lotame ▫ Mashable ▫ Mccann Erickson ▫ Merrill Lynch ▫ Morgan Stanley ▫ Mr Youth ▫ MTV Networks ▫ Nielsen McKinsey Incite ▫ The NY Times ▫ Ogilvy ▫ OpenX ▫ P&G ▫ PeekYou ▫ Pixable ▫ Porter Novelli ▫ Primus Capital ▫ Proskauer Rose LLP ▫ Publicis Modem ▫ R/GA ▫ Reuters ▫ The Royal Bank of Scotland ▫ Rubenstein Communications ▫ S&P ▫ Sailthru ▫ Searchmetrics ▫ The Shorty Awards ▫ Shutterstock ▫ SoftBank Capital ▫ Sproutlet ▫ Squarespace ▫ TEDxEast ▫ Termor Media ▫ UBS ▫ Ultra Light Startups ▫ VaynerMedia ▫ VH1 ▫ Viacom ▫ WeWork ▫ Zaarly
In order to attend the event, you must purchase tickets on the eventbrite page