The 28th annual FLIFF will run Oct. 18 through Nov. 10 with themes familiar and new. Oscar winner Anna Paquin is the marquee name attending FLIFF 2013. 
The surprise will come opening night, typically a showcase for light, accessible fare at FLIFF. But this year, the festival will open with "Free Ride," a taut tale of a hard-luck single mom ensnared in the South Florida drug culture in the 1970s. It was written by former South Floridian Shana Betz and stars Paquin, best known for her recent "True Blood" and "X-Men" roles and the Oscar she won at age 11 for "The Piano." Both will attend the Oct. 18 screening.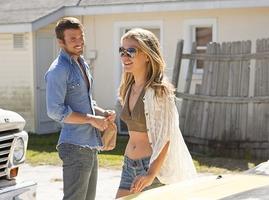 "I usually open with a comedy, something fun, and I'm kind of surprised myself that I decided to go this way," Von Hausch says. "But ['Free Ride'] is terrific. You'll be gripping your seat. … And Anna Paquin is just brilliant."
American Indie – Feature
World Premiere
OPENING NIGHT FILM
 Special Guests: Anna Paquin, Shana Betz, Cerise Hallam Larkin
FREE RIDE, Shana Betz
USA / 2013 / 83 min / HDCam / English
True Crime/Drama 1978: After a string of abusive relationships and dead end jobs, Christina Miller comes to the realization that there's nothing left for her and her two young daughters, thirteen-year-old MJ and seven-year-old Shell, in blue-collar Ohio. An inviting phone call from her free-spirited friend, Sandy, is all Christina needs to pack up her belongings and load the kids into a Chrysler bound for Fort Lauderdale, Florida.
Great weather, a vibrant social scene, and liberal lifestyle are attractive to Christina, and Sandy delivers right away, getting Christina a job cleaning houses in a wealthy neighborhood.  But it soon becomes apparent to Christina that the big, empty mansions she is dusting are merely a front for something much bigger.
And that bigger sure looks much better than the way Christina and the kids have been surviving. What lies ahead is a true story of a mom making choices – many, in hindsight could be questionable at best, however, Christina always had making a better life for her kids in the forefront of her thoughts.
So hang on to your seats, for the FREE RIDE that lies ahead has many twists, turns and thrilling detours.
Buy your $15 tickets here: 

http://www.eventbrite.com/event/8415692563/mcivte

http://www.eventbrite.com/event/8415692563/mcivte

http://www.eventbrite.com/event/8415692563/mcivte

http://www.imdb.com/title/tt1839482/fullcredits?ref_=tt_ov_st_sm