Hi 35-UP MEET-UP FRIENDS!!
Once again, we are able to offer 35-Up! Meet-up Members and our friends, $10 tickets to the first production of the Season! Normally tickets are $25 to $40 each, but this is a Fundraiser for the Roswell Lions Club and we are able to offer you a great deal! As this is the first dress rehearsal night, we get to see the show before anyone else in town. The Roswell Lions Club wishes to personally thank you for all your support attending these events. The money raised goes to support our many programs, headlined by our Eyesight Roswell program that ensures that all Roswell school students have eyeglasses for their studies.
DEATHTRAP
A Thriller!!
By Ira Levin
Directed by Robert J. Farley
November 5, 2013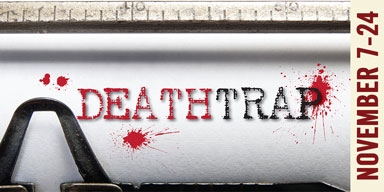 Go ahead, scream a little – it's good for you. This wickedly clever thriller is filled with twists, turns, shocking moments and plenty of laughter. Sidney Bruhl, a successful writer of Broadway thrillers, is struggling to overcome a "dry" spell when he receives a script from a student. Sidney devises a devilish plan, with his wife's help, to collaborate with the student. We soon discover that the playwright is prepared to go to any lengths to alter his fortunes, even murder. What "Psycho" did for the movies, Deathtrap did for the theatre – this is a must see!
It is a classic thriller, a genre with a style, a manner and an audience of its own. If you like thrillers, do see it. I promise you that it is vintage."
— NY Post
 COST IS $10 and you pay at the 35Meetup sign table as you enter the theater. Cash only! The show begins at 7:30 and ends around 9:30. Doors open at 7:15 and the sign in table will be open at 6:30. Best to be there early as it is open seating for this show.
No show policy is in effect for this event. This event WILL be full.