Hi 35-UP MEET-UP FRIENDS!!
Once again, we are able to offer 35-Up! Meet-up Members and our friends, $10 tickets to this thrid production of the Season! Normally tickets are $25 to $40 each, but this is a Fundraiser for the Roswell Lions Club and we are able to offer you a great deal! As this is the first dress rehearsal night, we get to see the show before anyone else in town. The Roswell Lions Club wishes to personally thank you for all your support attending these events. The money raised goes to support our many programs, headlined by our Eyesight Roswell program that ensures that all Roswell school students have eyeglasses for their studies.
Do Remember this is CASH ONLY!
Our night is Tuesday January 7, 2014!!
 A Comedy!!
The Only Light in Reno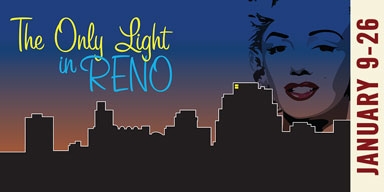 GET audiences' favorite Atlanta playwright is back fast on the heels of his successes here with Tokens of Affection and Swell Party. This brand new play is set in Reno in August of 1960. It is 106 degrees outside. Filming on "The Misfits" is hopelessly behind schedule, with no end in sight. The Sierra Mountains are on fire, and Reno is in total blackout. Elizabeth Taylor and Montgomery Clift are playing board games with an accused murderess, and Marilyn Monroe is locked in the bathroom. The hilarious story of when Hollywood came to The Biggest Little City in the World, and everything went up in flames.
Payne is a super-talented writer – he's proved himself time and again."

— ArtsATL.com
 COST IS $10 and you pay at the 35Meetup sign table as you enter the theater. Cash only! The show begins at 7:30 and ends around 9:30. Doors open at 7:15 and the sign in table will be open at 6:30. Best to be there early as it is open seating for this show.
No show policy is in effect for this event. This event WILL be full.