Hi 35-UP MEET-UP FRIENDS!!
This is the last play of the [masked] season. The next one won't be until the Fall! The Georgia Ensemble Theater (GET) couldn't have picked a better production to end the season. Camelot is one of the most celebrated shows of Broadway ever! The Music is superb and the story enchanting!
Our night is Tuesday April 8, 2014!!
Camelot
The Blockbuster Musical
Book and Lyrics by Alan Jay Lerner
Music by Frederick Loewe
Directed by Robert J. Farley
April 8, 2014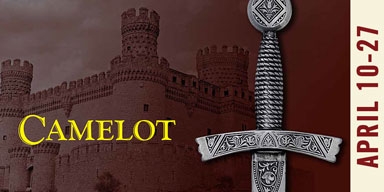 Georgia Ensemble Theatre's 21st season blockbuster finale will be the wildly popular Tony Award-winning Broadway musical, Camelot. King Arthur, Queen Guenevere, Lancelot, Merlyn, and the Knights of the Round Table are on their mythic quest for right and honor and justice. Along the way, they find love, broken hearts, intrigue and betrayal. Featuring many of Broadway's most well-loved songs, including "The Lusty Month of May," "How to Handle a Woman," "I Loved You Once in Silence," "If Ever I Would Leave You" and "What Do the Simple Folk Do?"
Pure magic!"
Once again, we are able to offer 35-Up! Meet-up Members and our friends, $10 tickets to this fifth production of the Season! Normally tickets are $25 to $40 each, but this is a Fundraiser for the Roswell Lions Club and we are able to offer you a great deal! As this is the first dress rehearsal night, we get to see the show before anyone else in town. The Roswell Lions Club wishes to personally thank you for all your support attending these events. The money raised goes to support our many programs, headlined by our Eyesight Roswell program that ensures that all Roswell school students have eyeglasses for their studies.
The doors to the theater open at 7:15 for a 7:30 start. Our table will be set up by 6:15 for those who wish to come early.
Do Remember this is CASH ONLY!