If you like painting, and drinking wine, this is the event for you! Enjoy painting on the winery patio in "Plein Aire" style, while sipping from your own glass or bottle of wine purchased from the Haak Winery store, just a few steps away. Food and other refreshments are available from the Haak Winery kitchen, also nearby. Plein Aire expert and team director Brian Bullard will demonstrate in front of the group, as
you follow, step by step, with a brush in one hand and wine glass in the other! You will be guided, and entertained, through a three-hour group painting session on the patio --
painting the vineyard, as directly seen in nature, not a copy! The "Paint & Wine Studio" team will see you through the journey and help you create your own masterpiece, suitable for framing.
This painting session is novice oriented -- no skills required! Amaze yourself and others with the wonders of mixing "Paint & Wine".
Participants who "Like" our Facebook page become eligible for two free prize drawings during the event -- a canvas, paint, and brush kit, as well as a special, wine-related prize! http://www.facebook.c...
Date / Time: Sunday, November 21st, 1pm to 4pm. Please arrive at least 30 minutes prior to class to get your food and drinks. Haak's "Italian Fest" starts at 4pm, feel free to enjoy this event as well.
Cost: $59.00 per person -- includes a three hour class (two 15 minute breaks), your 16x20 stretched canvas, use of brushes and paints, and first-class painting instruction from "The Paint & Wine Studio" art team. Notes: Please no outside food or beverages, Haak Winery has all you need! Non-smoking facility and grounds, smoking permitted on the front parking lot only. Rain or shine event, the giant patio is covered and protected!
Location: Haak Vineyards & Winery 6310 Ave. T, Santa Fe, Texas (located 1.8 miles south of State Highway 6 between Alvin and Galveston, Texas.) Santa Fe, Texas is approximately 15 miles from Clear Lake, 25 miles from Houston.
You must be registered to attend and be eligible for the free drawings! Details, images, and secure payment link here-- http://www.paintandwi... Unsure? Check out the pics from our last big "Paint & Wine"event in Galveston!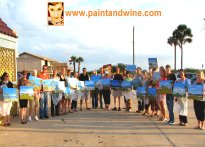 http://www.facebook.c...[masked] Questions? Call or email us -- [masked] or[masked]