WEEK 1: 12th Annual Underwater Photo Workshop & Contest - July 13-20, 2013
This year we are doing TWO workshops back-to-back. Come for one or join them both!
We've been running workshops for many years and this one will be the biggest and best of them all with lots of fun, prizes, photo pros and surprises! Here's your chance to get all your photo questions answered and improve your underwater photography skills.
This workshop is designed to show you how to use your digital camera and get the best shots possible when shooting underwater. No camera is too big or too small! Not only is this workshop a lot of fun, but you'll learn all about how to improve your underwater photography by shooting better and improving on what you've captured by using Adobe Photoshop.
Your instructor and host is Bonnie Pelnar. This will be Bonnie's 36th trip to Cozumel and she knows where and how to find the best Cozumel has to offer and can show you how to capture it with your camera.
In addition to the presentations, slide shows and seminars, Bonnie will be available to dive with you each day. We will set up a special photographer's boat, so if you wish to dive with the rest of the shooters, you are welcome to come along. At the end of the week we'll be having a photo contest with awards and prizes!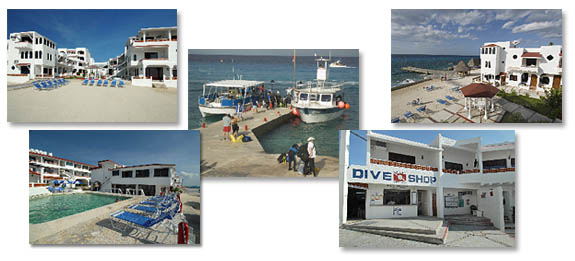 If your would like to attend please contact Bonnie to reserve your spot. A $100 deposit is required.
Check out our photo galleries for pictures from previous workshops in the photo galleries!
$1149 per person based on double occupancy
$1375 per diver, single occupancy
Includes:
7 nights accommodations
5 days 2 tank boat diving
unlimited shore diving
all meals
6-day photo workshop & contest
tanks, weights & weight belt
private locker to store your gear (bring your own lock)
discounted rates on camera rental gear
discounted rates on Sea & Sea camera gear purchases
Not included:
tax
airfare
airport transfers
gratuities
marine park fee
additional scuba instruction
NITROX
beverages
rental gear if needed
Extra nights (includes meals):
$145 per person in a single room
$120 per person double occupancy
Extra dives:
two tank boat dive: $65 per person
one tank night boat dive: $45 per person
two tank twilight boat dive: $70 per person
one tank wreck dive: $45 per person
For all the details visit http://www.underwatercolours.com/cozumel_workshop.html
For those interested in staying an additional day we are offering an optional day trip around the island of Cozumel with a visit to see the crocodiles at Punta Sur on Saturday, July 20.