WEEK 2: Special Advanced Workshop with Jack Davis & Bonnie Pelnar - July 20-27, 2013
This year we are doing TWO workshops back-to-back. Come for one or join them both!
For the more advanced digital photographer and those interested in DSLR video we have added a second week-long workshop featuring both Bonnie Pelnar and Jack Davis.

Jack is one of the world's leading experts on Photoshop, as well as himself being an award-winning photographer. Jack is coauthor of the bestselling guide to Photoshop, The Photoshop Wow! Book. His latest book, How to Wow: Photoshop for Photography, showcases the process of going beyond what was shot, to crafting what was experienced.
This workshop will focus on topics like the latest camera RAW conversion features of Photoshop, Adobe Lightroom for underwater photographers, processing video from your SLR, point & shoot, & GoPro cameras, and advanced shooting and lighting techniques. Both Bonnie and Jack will be diving with you every day.
You can join either workshop separately or attend them both. There will be a small bit of overlap in the topics covered, such as the introductory presentation and Photo Composition presentation, but the majority of the topics will be new.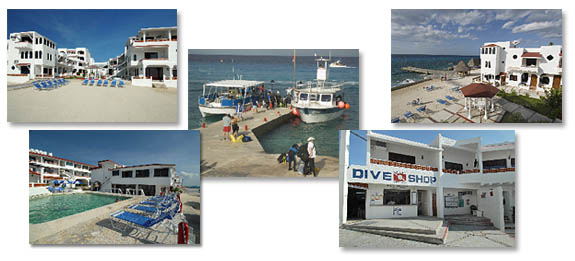 If your would like to attend please contact Bonnie to reserve your spot. A $100 deposit is required. We can not accept walk-ins that have not contacted Bonnie in advance.
Check out our photoss for pictures from previous workshops in the photo section of this website.

$1249 per person based on double occupancy
$1475 per diver, single occupancy
Includes:
7 nights accommodations
5 days 2 tank boat diving
unlimited shore diving
all meals
6-day photo workshop & contest
tanks, weights & weight belt
private locker to store your gear (bring your own lock)
discounted rates on camera rental gear
discounted rates on Sea & Sea camera gear purchases
Not included:
tax
airfare
airport transfers
gratuities
marine park fee
additional scuba instruction
NITROX
beverages
rental gear if needed
Extra nights (includes meals):
$145 per person in a single room
$120 per person double occupancy
Extra dives:
two tank boat dive: $65 per person
one tank night boat dive: $45 per person
two tank twilight boat dive: $70 per person
one tank wreck dive: $45 per person
For those interested in staying an additional day we are offering an optional day trip to snorkel with the whalesharks at Isla Mujeres. Cost is $200 plus and extra night at Scuba Club.
For those interested in coming in a day early we are offering an optional day trip around the island of Cozumel with a visit to see the crocodiles at Punta Sur.
For all the details visit http://www.underwatercolours.com/cozumel_workshop.html