Your chance to interact and share with 20 developers and 20 designers (only).  Hear about the latest tools, tips and teqniques from your peers.  Part showcase, part networking, part panel, part collaboration, and part skill sharing, what better way to get things accomplished on your current project than to share and interact with your peers in a highly structured series of interactive sessions.  Join your peers in a "no holds barred", ask me anything series of sessions to share, critique and interact.  Already registered previously, please do it again - this is a new event.
This is a paid event, $6.00 Early Bird and $10.00 regular admission.  Why, the venue fees and food costs.  We are using EventBrite for registration to support an even ratio of developers and designers.  We are accepting 3 non developer/designer volunteers who will assist with the event, which in return are admitted free.  Not to worry, other events will offer a different mix of participants such as 40 Developers and Entrepreneurs and so on.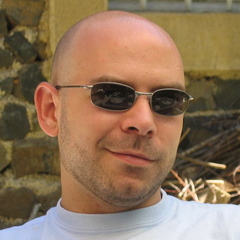 Get an exclusive look at a next generation design and design tool presented by founder, ex-Apple, NeXT developer Benoit Marchant.  Benoit will show off his latest creation, an HTML5 adaptive/responsive framework that will revolutionize the way that you design and develop web and mobile apps.
A dedicated website is in the works to host topics from this series, tools and other things shared/discussed during the event.  It will also act as forum to continue the conversation, long after the event is over.
We also ask that participants fill out a brief form if they want to participate in the project showcase or panel to help us plan and prepare.  if you want to moderate the event, please use the same form.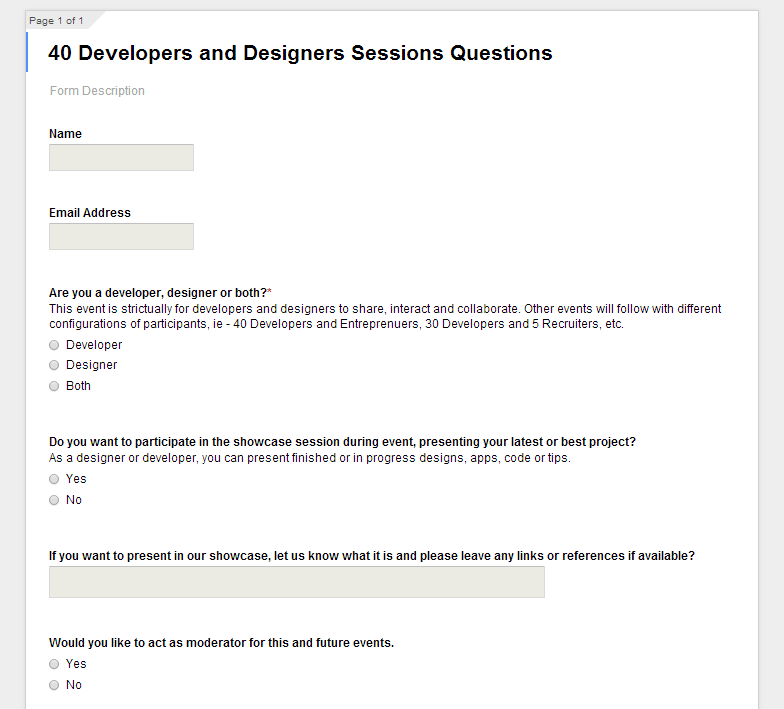 Based on previous meetup events and participant comments, we have observed that members form deeper bonds through interactive activities which may lead to follow-up and future collaborations.
Depending on interests, let's initiate a test run on this format of meetup event within the next two weeks.  Exact date, location and venue will be announced soon.
Pilot
This event will be limited to an evenly mixed group of 40 web/mobile designers, developers and engineers initially.  We will expand it to offer larger member participation later.  Our goal is to offer these sessions weekly, ramping up the frequency as needed.
Some sessions will have themes, covering a particular focus, so that we can satisfy the needs of participants.
Some sessions will include guest speakers.  Most will include timed participant presentations.
Where
We plan to make these events available in select venues around DC, N. Virginia and Maryland - convenient to public parking and/or transportation.
How
We will be implementing two part process for registration, Meetup.com and Eventbrite . Pre-registration on Meetup.com will act as a pool to gauge interests and to allow us to notify session participants with important event information and updates.  EventBrite will support control of admissions and create the right ratio of designers todevelopers/engineers.
To make every session a success and as productive as possible for participants:
You must RSVP for each meetup session that you want to attend.  Thisallows us to notify you of session dates, locations and times.This event requires a $10 cover which includes pizza/other food, drinks and refreshments.  It also insures attendance and participation by members who have RSVPd.You must register for each session on Eventbrite, once a date and venue has been established.  You will be notified a week in advance.  To ensure that we have the appropriate ratio of designers todevelopers/engineers, a strict limit of each will be enforced, soregister early to secure your spot.
Session Format (Tentative)
Each Session will include either a presentation or multiple featured showcases of participants projects, sharing of tips, and techniques followed by a brief open discussion.  Then the participants will break off into evenly proportioned groups of designers vs developers/engineers.
Showcase/Presentation/Tips (1 or a combination of below upon availability)
6 (5 minute) Presentations of participating designers, developers and/or engineers.
Up to 3 20 Minute Presentations by participants or guest contributor Open Discussion, Q&A Lightning rounds for announcements
Panel:  10 Minutes - All presenters or qualified volunteers from audience will participate in an ask me anything style forum with audience.  Topics will cover anything design, development or related.
Group Interaction: 15 minutes - Break off into randomly selected, evenly proportioned groups for project sharing, critique, and focused discussions on tips, trends and techniques
Skill Swapping: 20 minutes - Pair off into smaller groups of 2 or more for collaboration and consultation.  This is where developers can get tips on design trends, patterns and other important tips that they can incorporate into their projects.  Designers also will have a chance to ask developers questions and obtain valuable guidance on current projects.  Also a possible opportunity to get advice on how to enhance their budding developer skills.
Networking: Congregate as a whole group again to network and ending discussions.
Lightning Rounds for Announcements: After Sessions (optional)For those who want to continue collaboration and discussions after main event has ended.  Duration will be at the discretion and consensus of the event participants and organizers.
Very limited availability to maintain balance of types of participants and effectiveness, so register soon. If you are interested, RSVP here first to pre-register.  Remember it is a two part registration.  You will receive notification soon after with a direct link to EventBrite for actual admission/registration.
For those of you who feel left out, remember this is just a pilot.  A larger, slightly different iteration of this event will be available soon after.  This will include startups, entrepreneurs and those willing to gain insight and advice from the developer and design community.  Expect an announcemnt soon.